Pictorial health warning in cigarette sold in Brazil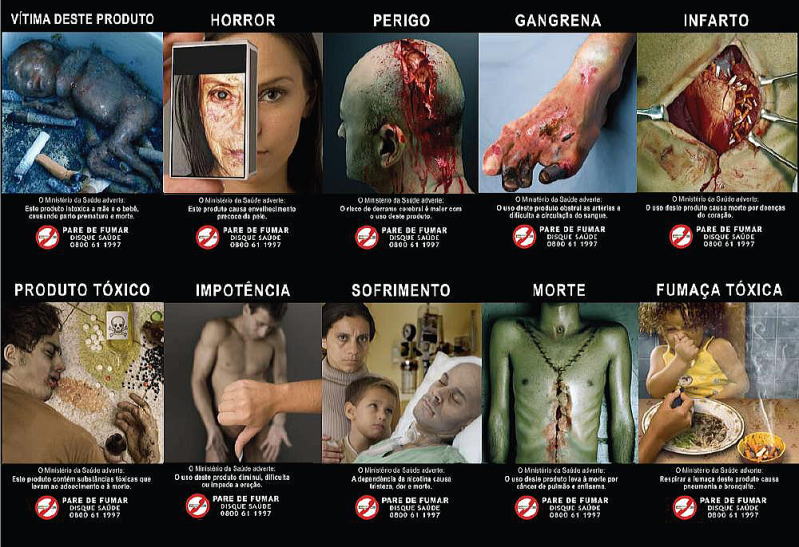 Brazil's third and current batch of graphic images, mandatory on all cigarette packs.


Brazil was the second country in the world to adopt mandatory warning images in cigarette packages.
Warnings and graphic images illustrating the risks of smoking occupy 100% of the back of cigarette boxes
since 2001. In 2008, the government elected a third batch of images, aimed at younger smokers.



@


Tobacco Packaging warning Messages/Canada



Special Note:@"ú–{Œê•\Ž¦

@Russia unduly occupies our Northern Territories of Japan.
@Smoke-free hotels in Japan
@ Domestic travel in Japan
@WHO: Smoking should be banned in all public spaces.
@World population: seven billion v.s. Declining birth rate in Japan
@Nobody in the earth can destroy the natural beauty of the land.
@Stop merging war criminals and war victims at Yasukuni Shrine.
@Tax saving's rental housing is mushrooming.


Copyright (C) 2006-2022 Junhaku Miyamoto, PhD. All right is reserved.
Photo correction deletion request

Junhaku Miyamoto: profile
Regional weather forecast throughout Japan
FaceBook


Smoke-free Hotel and Travel
Žó"®‹i‰Œ–hŽ~ð—á@ ‰®"à'S–Ê‹Ö‰Œ@ ‰®"à‹i‰ŒÝ"õ"P‹Ž@"S"¹ŽÔ"àŠ®'S‹Ö‰Œ

ƒŒƒ"ƒ^ƒJ[@ƒŒƒXƒgƒ‰ƒ"@ƒo[@ˆùH"X@ƒzƒeƒ‹@‹ó`@‹i‰Œ‹K§
Restaurant hotel railway rent-a-car travel airport condominium smoking ban
@@

Twitter@worldviewtokyo@

Twitter: —smokefreejpn

Twitter@criticismjpn