Political Background: Abe-Aso Cabinet leaders to support smoking
In June 2017, the former Minister of Health, Labor and Welfare Shiozaki has said that
the anti-smoke law should not be ashamed before the world. The minister
stressed that many citizens still suffer serious second-hand smoke in public facilities,
such as restaurants and workplaces. He also said,' For the 2020 Tokyo-Olympic,
we are responsible for succeeding the tradition of the Olympic without tobacco.
If a restricted exception was set up at a small-scale restaurant, the Minister said
that the principles and exceptions would reserve and in most restaurants and bars,
and the user can put a cigarette at a food-serving shop.
The flow of politics has changed greatly toward unfavorable direction, in August 2017.
Prime Minister Abe and Finance Minister, Aso dismissed Minister Shiozaki, because
he disagreed to a request of LDP members who admit smoking in the restaurant
and bars. As a result, the Tobacco Chairperson of LDP was nominated as a Minisiter in
demand of Tokyo Olympic Games. He is the brother in law of Finance Minister Aso.
At the same time, Representative Kato, who claims a separate smoking booth in
a restaurant, was newly appointed as the next Minister of Health.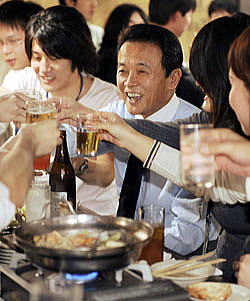 Minister Aso was in good humor in a pub.

Aso Prime Minister approval rating fell to 17%. (2008)
---

Nobody can destroy the inherent natural beauties of the earth.

Japan government aims to keep the population at 100 million in 2060s.

No Government personals should visit to Yasukuni.

Abe-Aso Cabinet leaders to support smoking