兵庫県医師会講演「先進国で進む屋内全面禁煙」(神戸2011)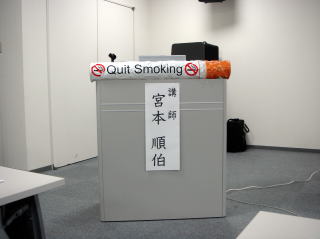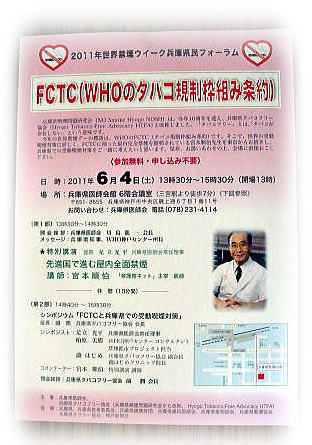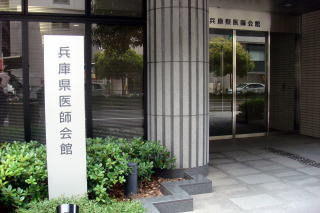 Annual Meeting of World's No-Tobacco Day was held at Kobe, Japan on June 4, 2011.
Host organizer: Hyogo Medical Society and Hyogo Tobacco Free Advocacy
2011年世界禁煙ウィーク兵庫県県民フォーラムが6月4日に神戸市兵庫県医師会で催された。
主催者は兵庫県医師会、兵庫県タバコフリー協会、講師は「禁煙席ネット」宮本順伯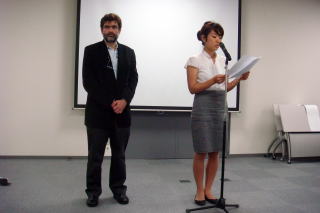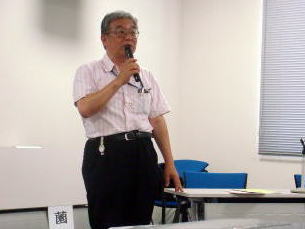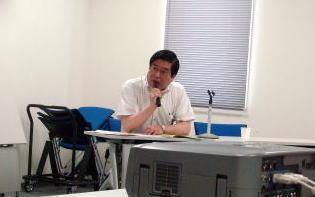 (L) Dr. Francisco Armada, WHO and Ms.Mina Kashiwabara, who read a message from Dr. Jacob Kumaresan, Director of WHO Kobe Center
(M) Dr. Jun Sono, Chairman of Hyogo Tobacco Free Advocacy
(R) Dr. Kohei Adachi, Chairperson of the Symposium
(左)WHO健康開発総合研究センター所長、ジェイコブ・クマレサン氏と声明の日本語訳を読む柏原美那さん
「受動喫煙には安全量というものはなく、100%全面禁煙のみが喫煙の害を回避できる唯一の解決策であると強調した。
(中)兵庫県タバコフリー協会会長、西宮市保健所長、薗潤先生
(右)司会者、兵庫県医師会常任理事、足立光平先生




 講演に使用したスライドは159枚に及ぶが、そのうちの82枚を公開する。
一部の画像の重複したものがあるが、自動的に変化する設定を静止画として公開しているため。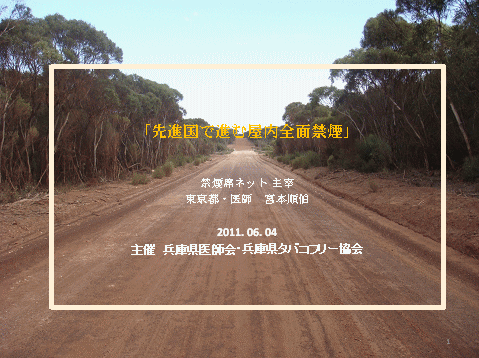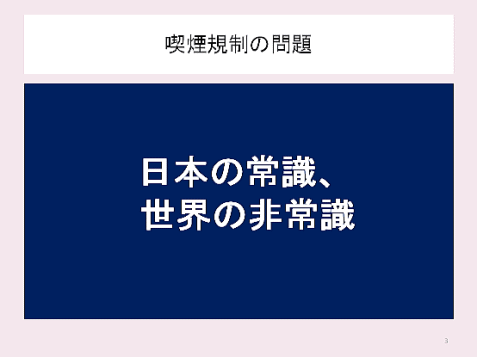 (L) Title: A total indoor no-smoking policy is in progress in the advanced country.
(R) Japanese common-sense is World's absurd.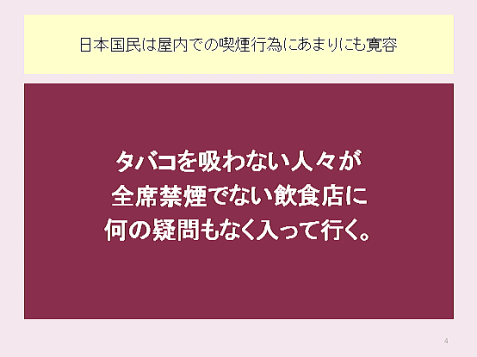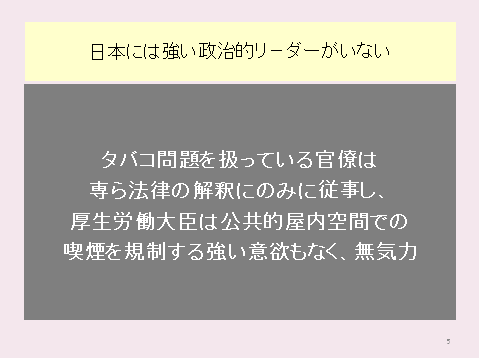 (L) In Japan, many non-smokers choose the restaurant/cafe, which allow smoking inside, without hesitation.
(R) Almost all members in the cabinet and bureaucraft apply themselves to interpret the further details of ordinance or law.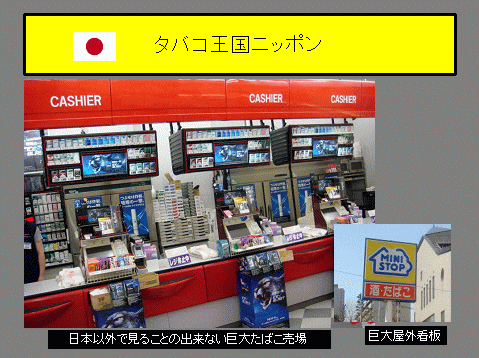 (L) This shows a huge tobacco counter in Akasaka, Tokyo. (R) All convenient sores sell tobacco as a key commodity.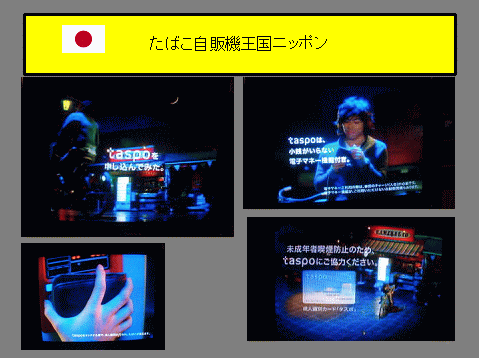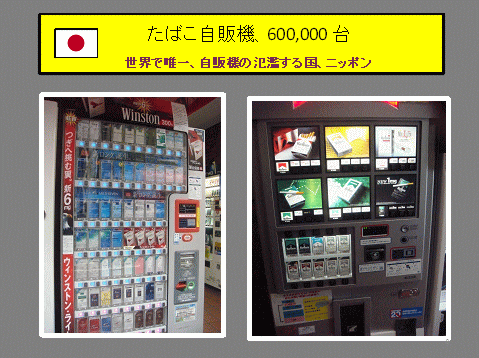 (L) A promotion tobacco CM how-to-use a vending machine broadcasting in Japan
(R) A number of tobacco-vending machine is over 600,000 in Japan.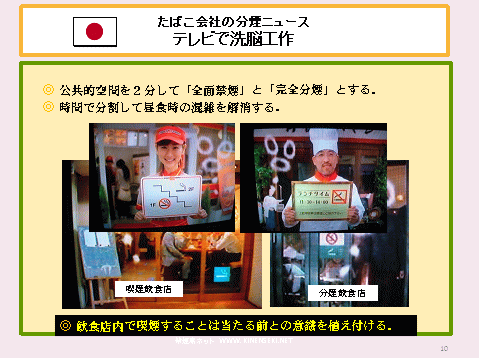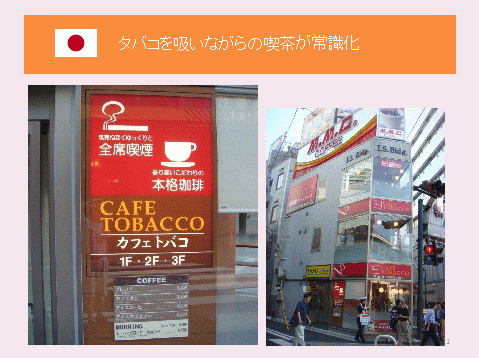 (L) Japan Tobacco Inc. promotes to establish a separate smoking room in a restaurant and pub for smokers,
trying to control the mind of all Japanese people by a repeated TV commercial.
(R) ' Cafe Tobacco', the smokers-only cafe in Shinbashi, Tokyo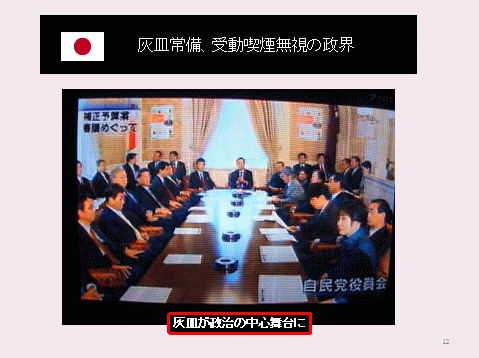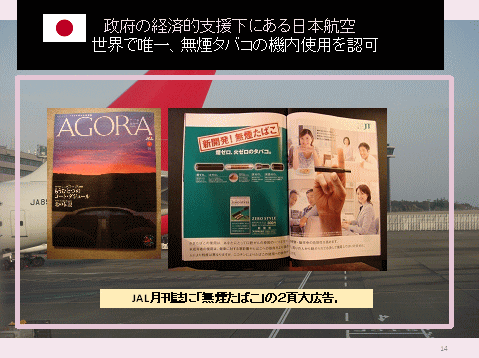 (L) In most of the main building of the Liberal Democratic Partty of Japan, which played the previous regime, provides ashtrays on a desk.
(R) The use of 'smokeless tobacco' is allowed in the JAL aircraft cabin.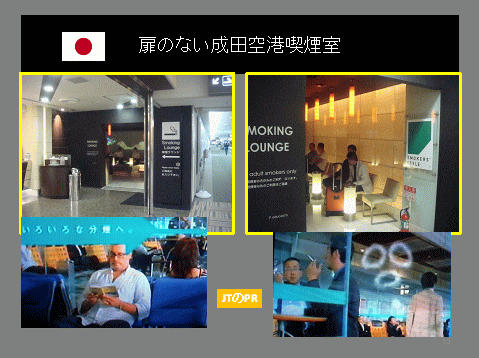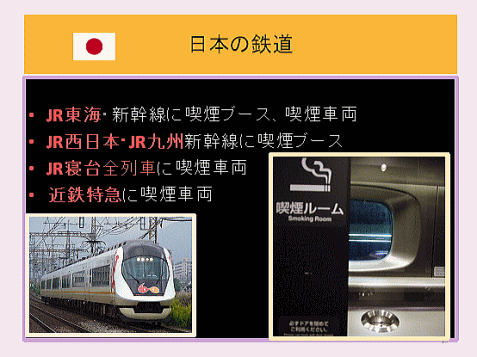 (L) Door-less entrance/exits of the smoking space at the Narita International Airport and TV campaign by Japan Tobacco Inc..
(R) In JR Tokai, Kintetsu Express and all sleeping trains of JR companies provide a smoking vehicle. Others have a booth in a train.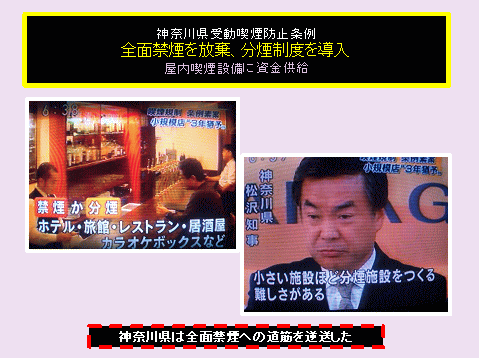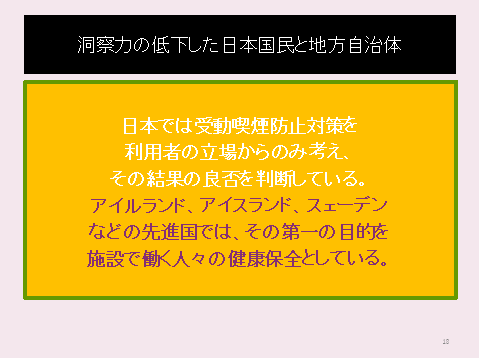 (L) The former governor of Kanagawa Prefecture established an anti-smoking ordinance, admitting a separate smoking room in a restaurant.
(R) Many Japanese people, even including a promoter for a smoke-free society, evaluate the anti-smoking law from the standpoint of consumer,
not from the worker. However, advance tobacco-free countries, the priority is always for the safety of a worker.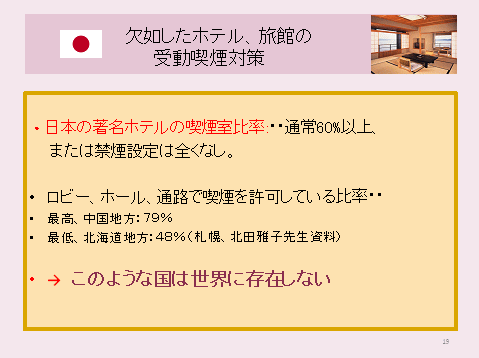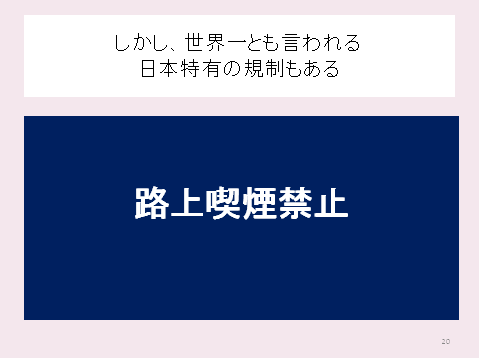 (L) Hotel lobby should be smoke-free at any time. In Japan, however, smoking is allowed at lobby and corridor in the 48 to 79% of a hotel.
(R) Japan is considered as a number-one country as far as a smoking restriction outside.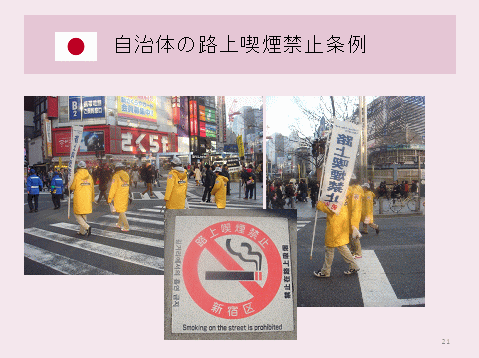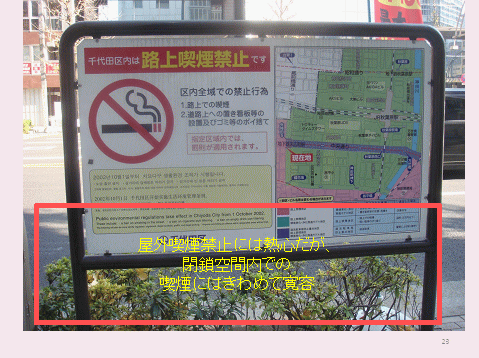 (L) An anti-smoking campaign in a city street, at Shinjuku, Tokyo
(R) This sign board shows that smokers in a street have to pay 2,000 yen as a penalty, at Chiyoda City, Tokyo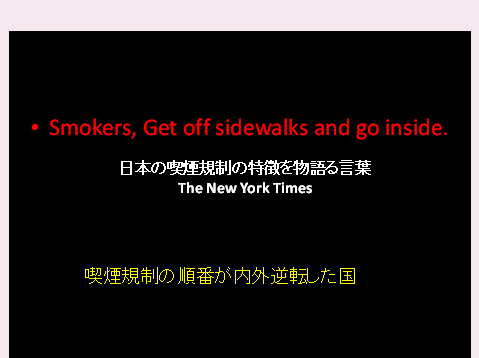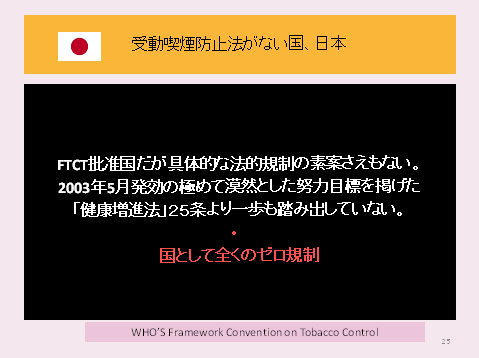 (L) This is the word, which represents the special feature of Japanese anti-smoking trends.
(R) No concrete proposal of a smoking restriction in a public space is shown to people live in Japan.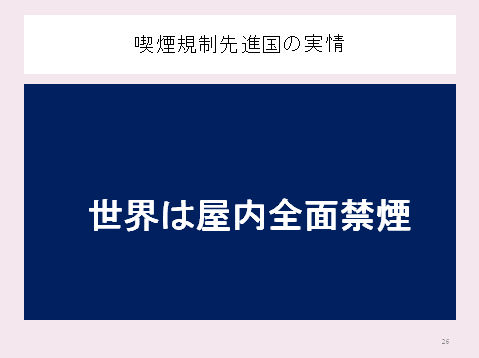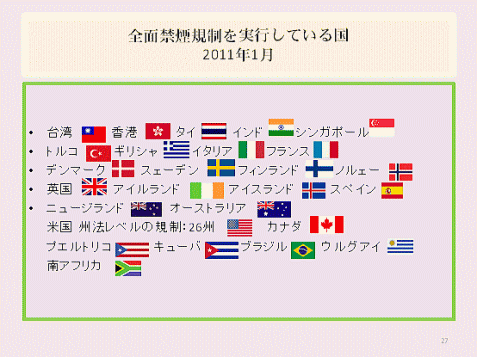 (L) A total indoor no-smoking policy is in progress in the advanced country.
(R) These countries prohibit smoking inside of a public space as of January 2011.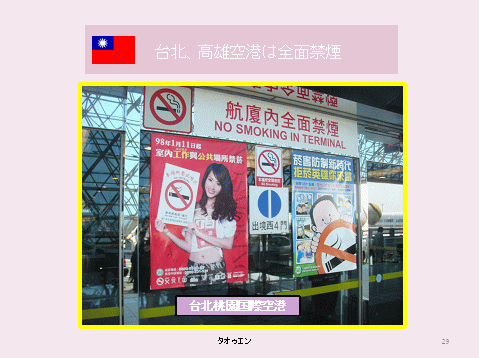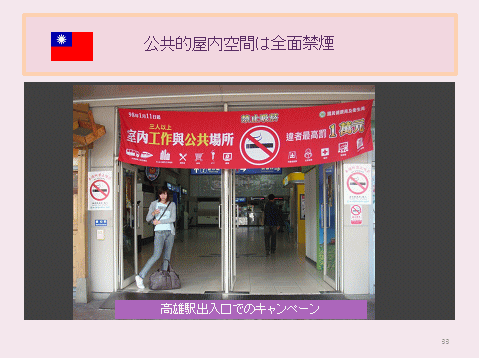 In Taiwan, a country-wide anti-tobacco campaign is in progress.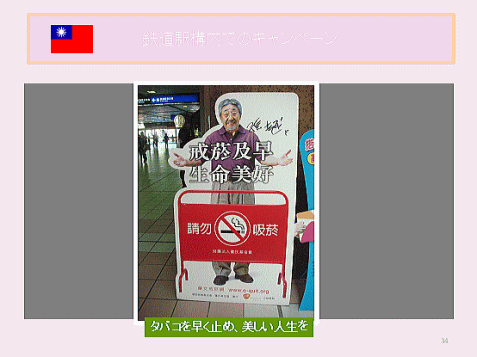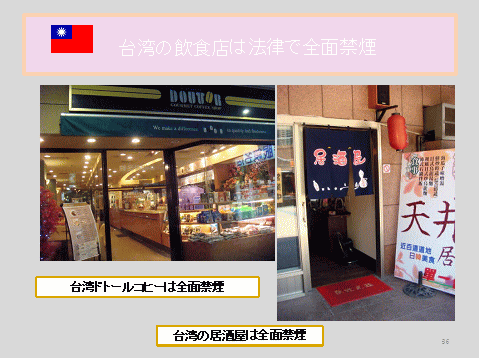 (L) This sign bord says ' You can expect a beautiful life after quit smoking'.
(R) All restaurants and pubs are smoke-free in Taiwan.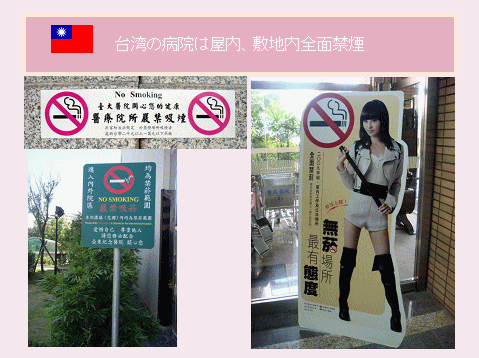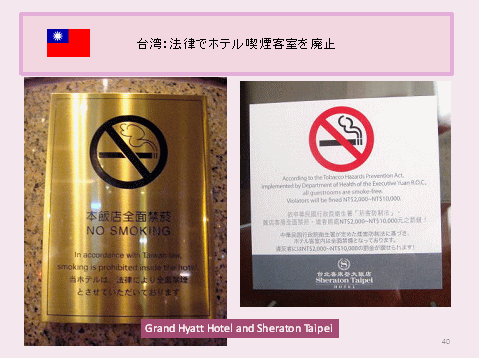 (L) All hospital area is smoke-free in Taiwan. (R) No smoking room in the hotel is allowed in Taiwan.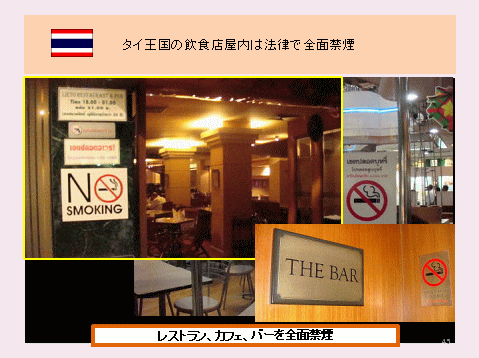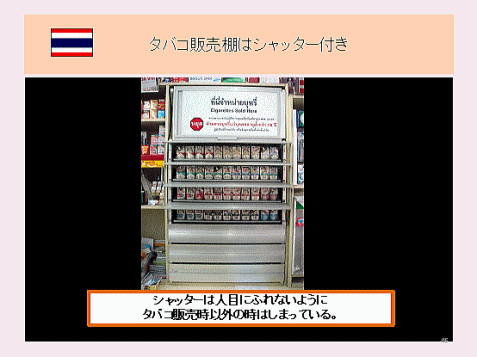 (L) All restaurants and bars are smoke-free in Thailand.
(R) A shatter is placed in front of the tobacco container in a convenience store in Thailand.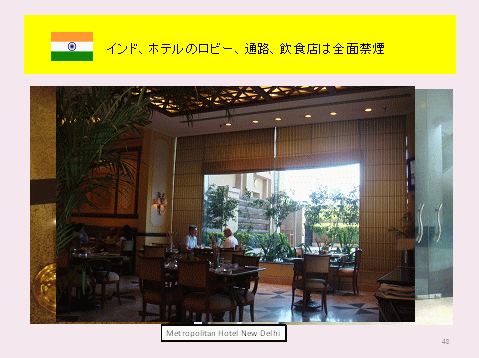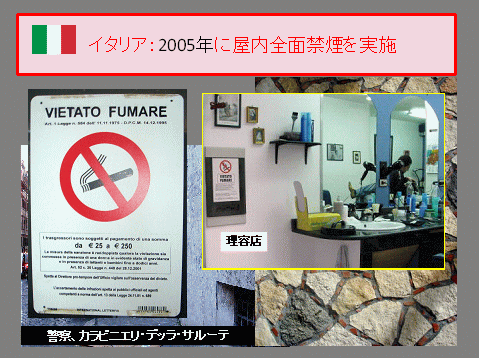 (L) In India all restaurants and bars and a lobby of hotels are smoke-free.
(R) In Italy, anti-smoke law was established in 2005.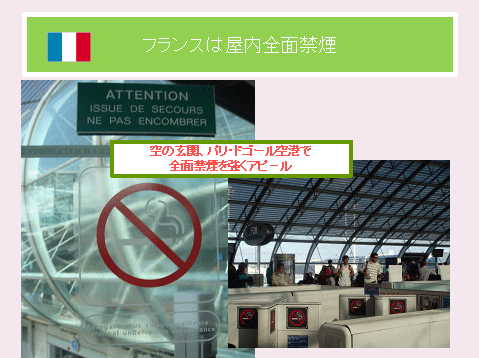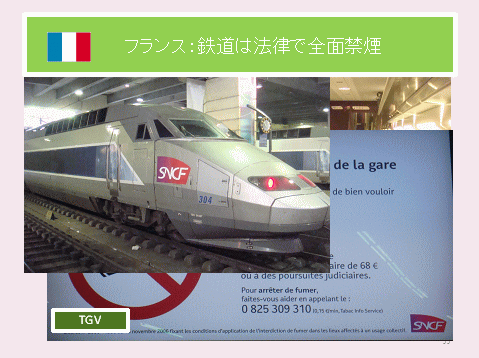 (L) A France's strong attitude toward the tobacco control is appeared at the major air gateway to the country.
(R) SNCF railway in France prohibited smoking in the train and plateform.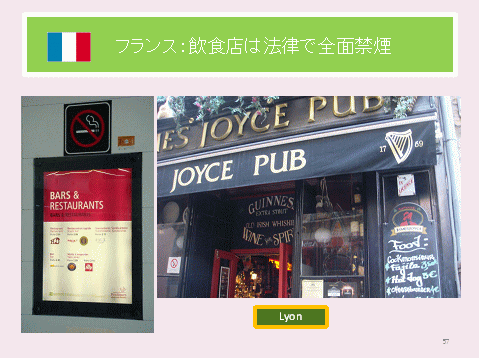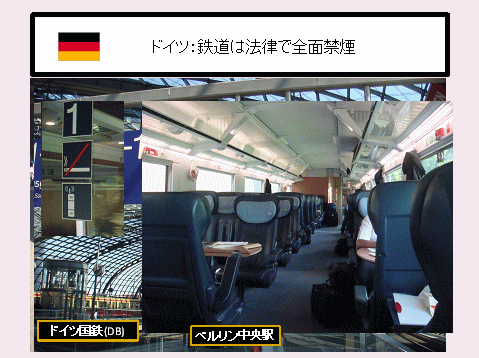 (L) All restaurants and pubs are smoke-free in France.
(R) German railway ( DB ) prohibited smoking in all trains and platforms, except a designated area.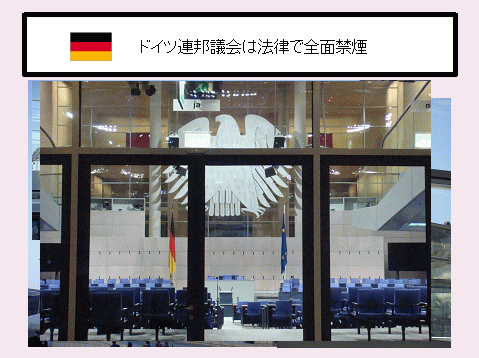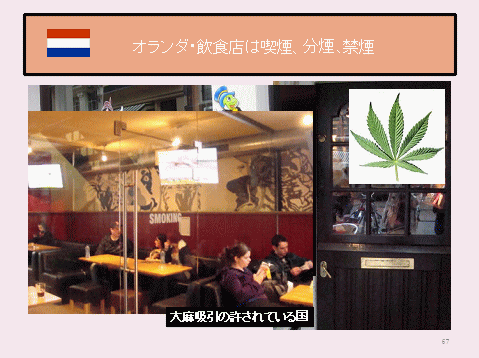 (L) Smoking is prohibited in the German Parliament.
(R) In Holland, marijuana ( Cannabis ) is legal and in downtown Amsteradam, many 'coffee shop' are set for cigarette and cannabis smoking.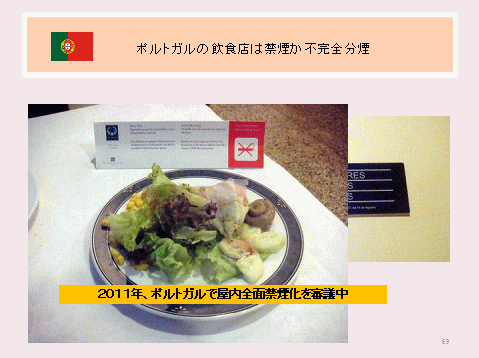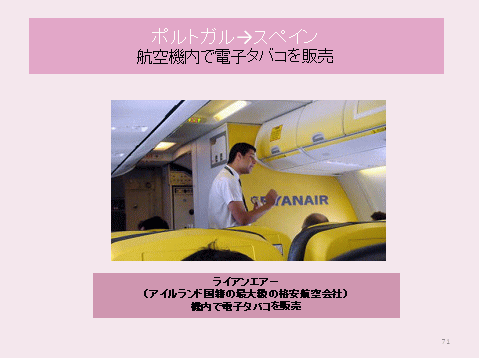 (L) In Porutogal, you may smoke in some of the restaurants and bars.
(R) A cabin crew of Ryanair is selling an electric cigarette, in freight between Portugal and Spain.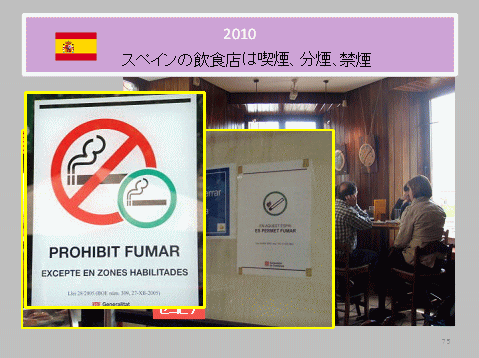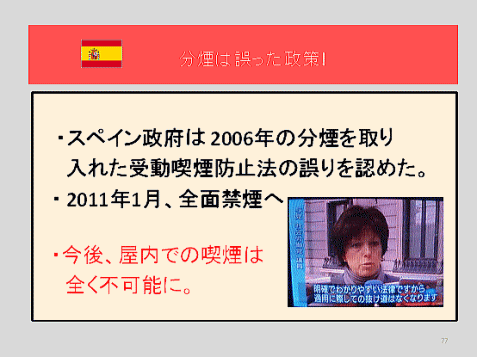 Spain which was famed for its smoke-filled bars, cafes and restaurants, was poised to enact a tough new anti-smoking law.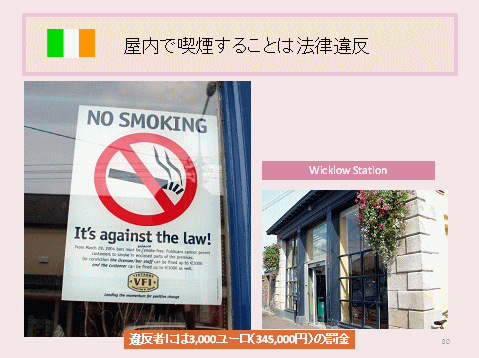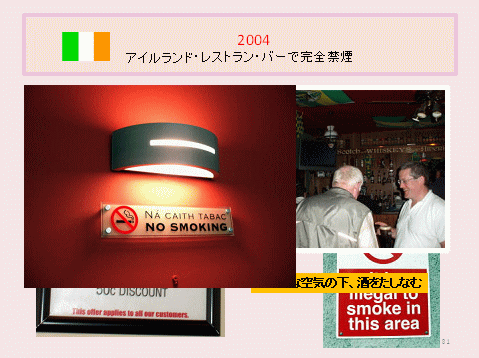 Absolutely, no smoking is allowed inside of restaurants and bars in Ireland.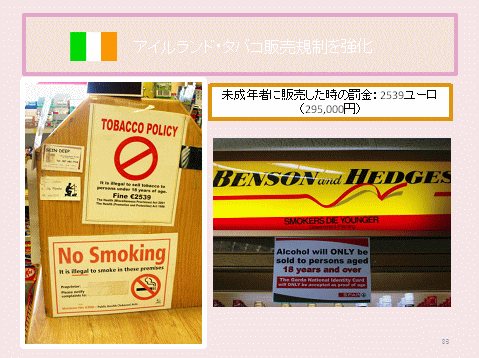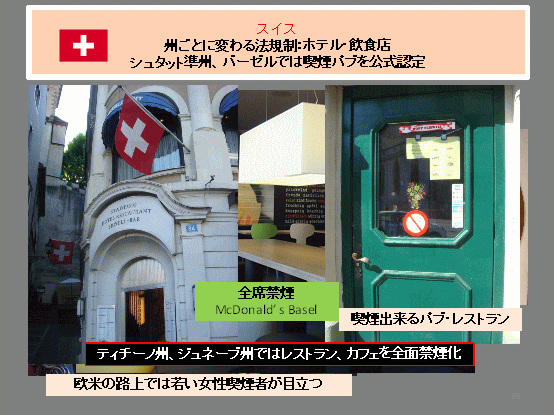 (L) A penalty of 2,539 euros will be charged if a retailer sells a tobacco to the minors in Ireland.
(R) In Basel, Switzerland, a smoking inside of bars is allowed.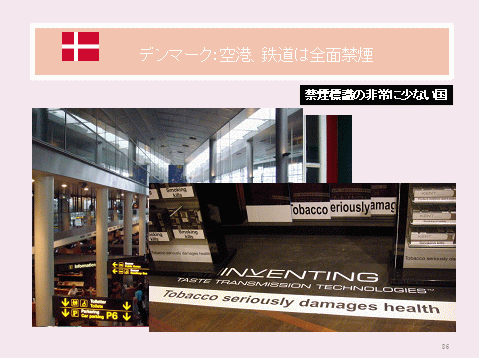 (L) All indoor public spaces are smoke-free in Denmark.
(R) There are still many young women smoking at the outside of restaurant, in Sweden.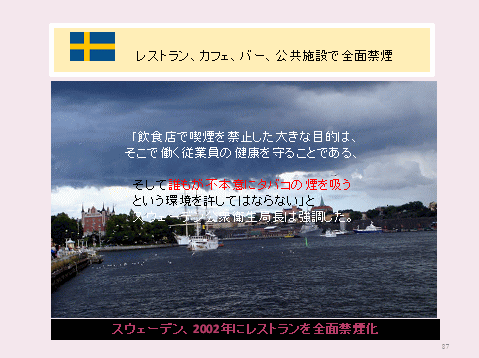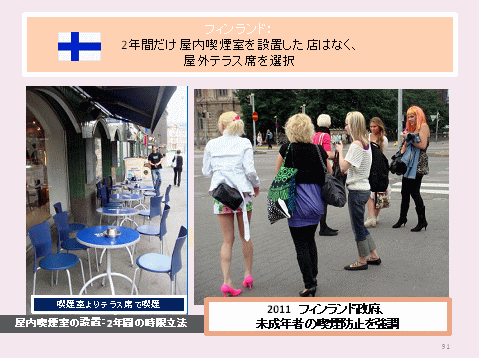 (L) The major reason to prohibit smoking in a restaurant or bar, is to protect the workers in the firms, so announced by the health officer in Iceland.
(R) Smoking is allowed at the outside of bars in Finland. A strong government support to quit smoking is under way.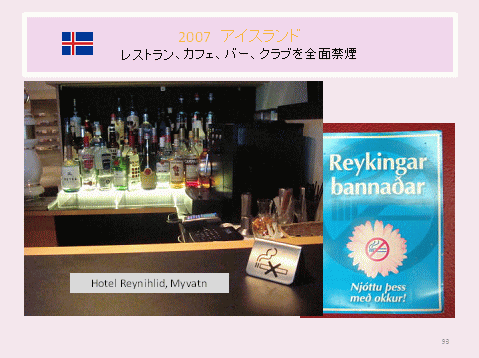 (L) In Iceland, no smoking is allowed at any restaurants and bars.
(R) A grocery store sells tobacco behind a counter desk, in order to be not seen by regular customers.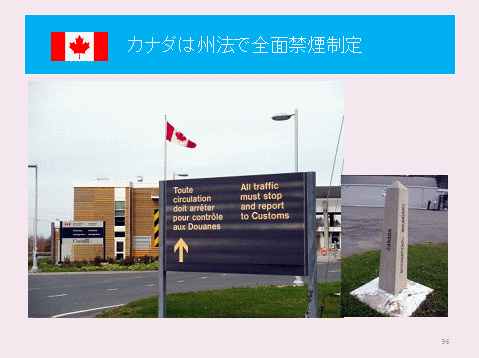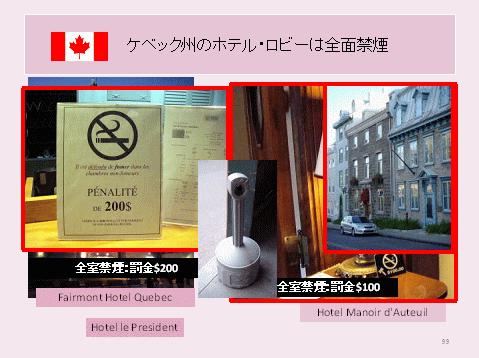 (L) Smoking in Canada is banned in indoor public spaces and workplaces (including restaurants, bars,
and casinos), by all territories and provinces
(R) In the province of Quebec, many hotels do not provide any smoking space inside.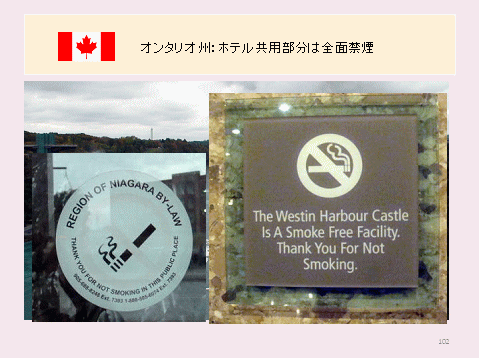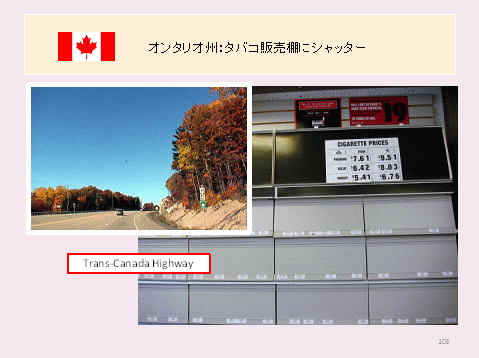 (L) Many hotels in Ontario are smoke-free, eliminating the hazard of tobacco to a guest and workers.
(R) In Ontario, Alberta and British Columbia, all tobacco products are behind the sliding door in a shop.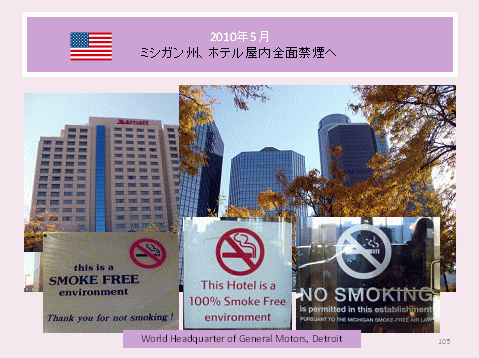 (L) The smoke-free act in Michigan covers any workplace and food service establishment.
(R) Smoking is banned in all hotel rooms in the City of Boston.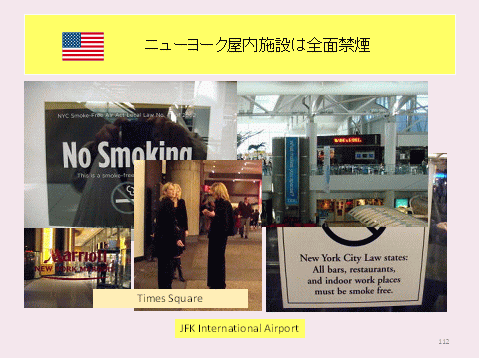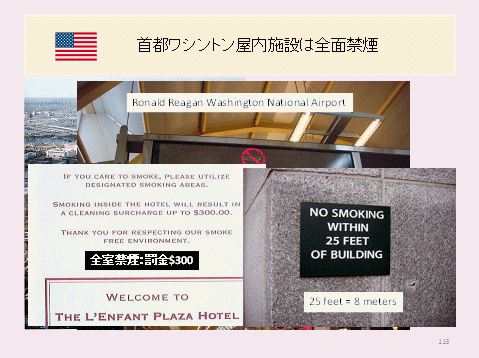 (L) New York City outlawed smoking in restaurants and bars in 2003.
(R) District of Columbia approved a broad ban on smoking in bars and restaurants starting in January, 2007.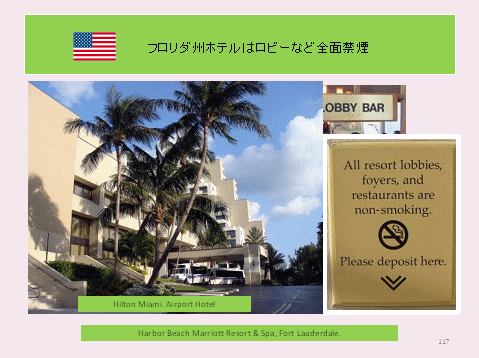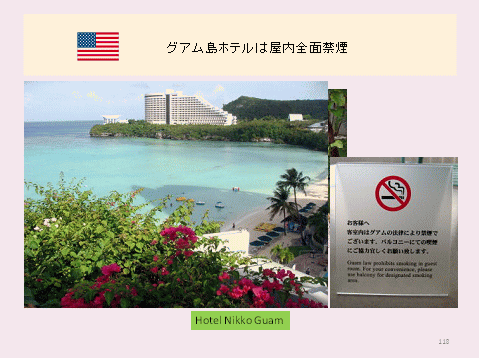 (L) In Florida, smoking is banned all enclosed workplace, restaurants and hotel lobbies.
Smoking is allowed in stand-alone bars, not located within any work places.
(R) Smoking is prohibited in a guest room of Guam hotels.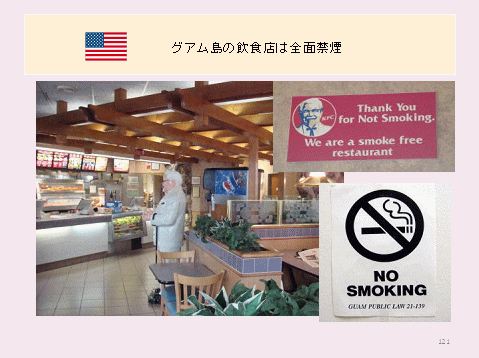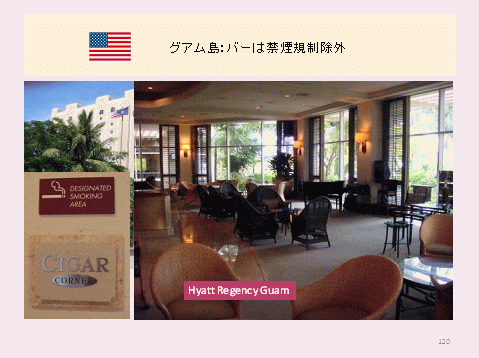 In Guam Island, all restaurants are smoke-free. However, a designated smoking place in a cigar bar is permitted.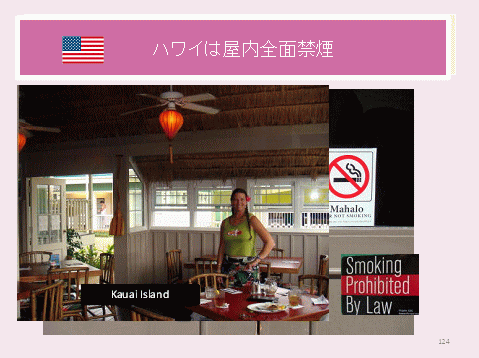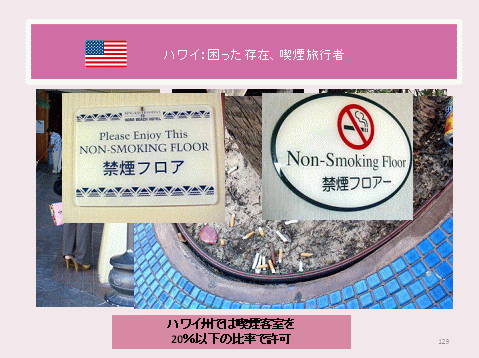 (L) Smoking in restaurants and bars is prohibited by Hawaii's law.
(R) Hawaii permitted to provide smoking rooms within 20% of a total guest room of a hotel.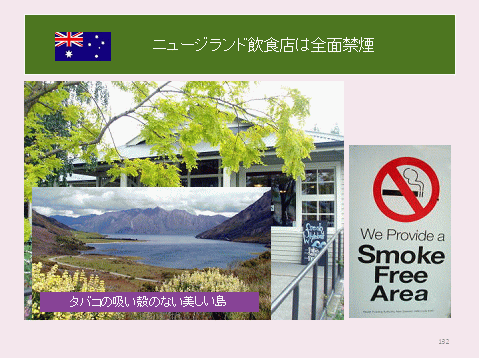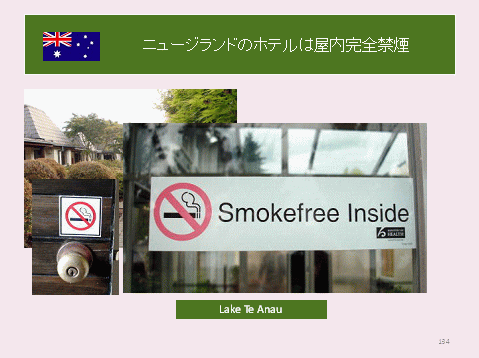 (L) In 2004, New Zealand prohibited smoking in all indoor public places, including a restaurant and bar.
(R) No-smoking policy is well accepted by a resident of New Zealand.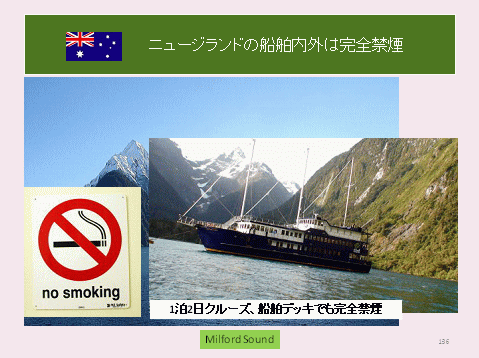 (L) No smoking is allowed at the cabin and outside deck of an overnight ship cruise in New Zealand.
(R) Smoking is prohibited at indoor and outdoor terrace seats of a restaurant at Queensland, Australia.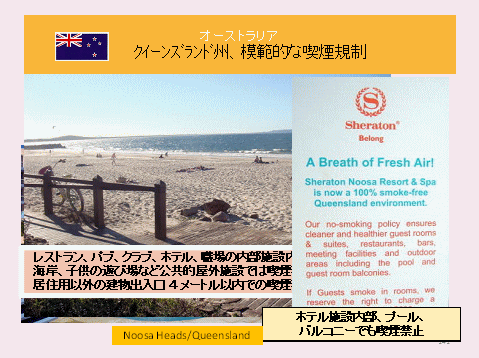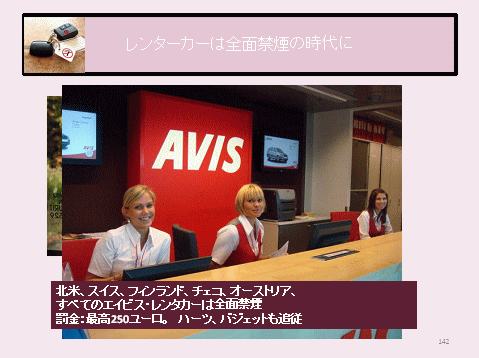 (L) In July, 2006, the Queensland Government introduced the toughest anti-smoking laws among nations.
(R) Avis Finland says all cars provided by Avis is smoke-free. Hetz Finland follows.
In all rental cars in North America, no-smoking policy is enforced.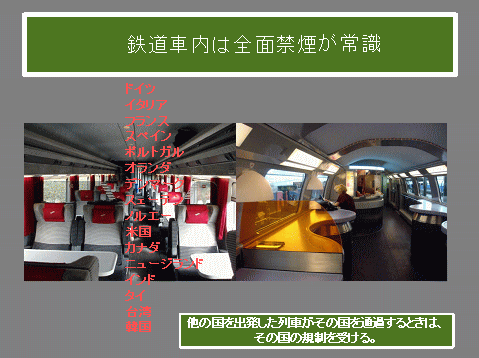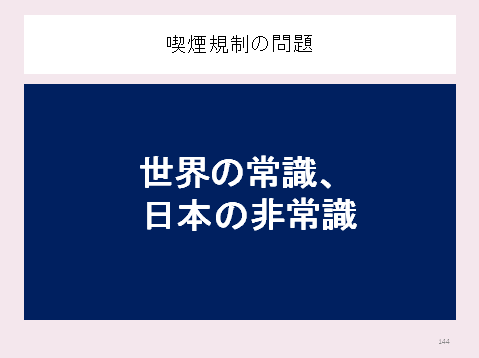 (L) It is the most normal thing that a public transportation is smoke-free. (R) The world's common-sense is not a universe for Japanese.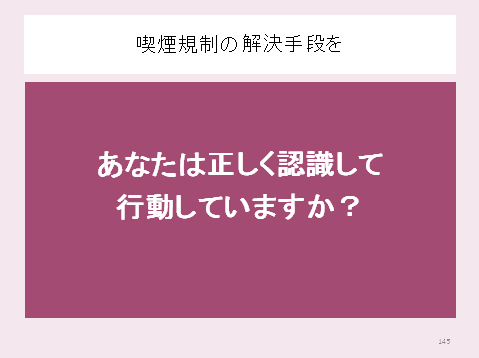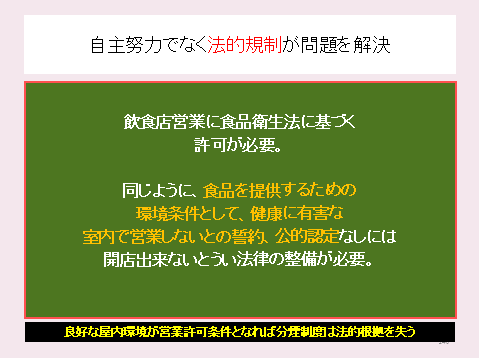 (L) Are you sure that you are doing the right thing with a deep insight?
(R) All eating houses have to receive a permission by the health authority before open their shop.
It is a quite same thing that a restaurant should provide the unpolluted, healthy air in the entire indoor facilities,
as a basic condition for a food-service business.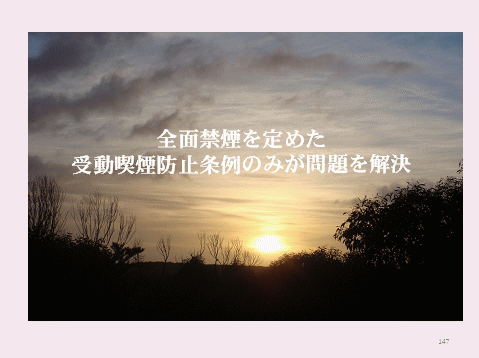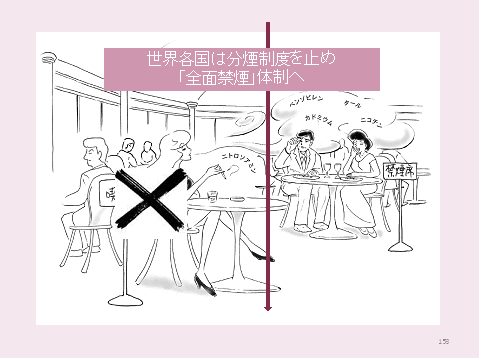 (L) To enact the law to prohibit smoking indoor space is the only and best solution to prevent a disease caused by tobacco products.
(R) Now, the advanced countries abandoned and closed a separate smoking space inside of the public buildings.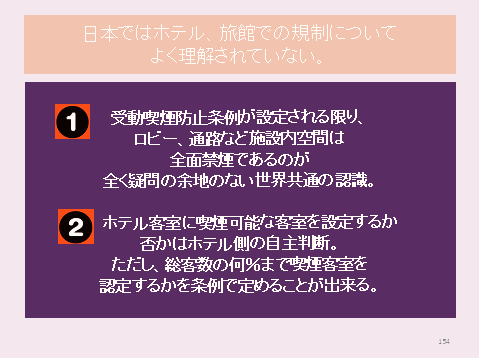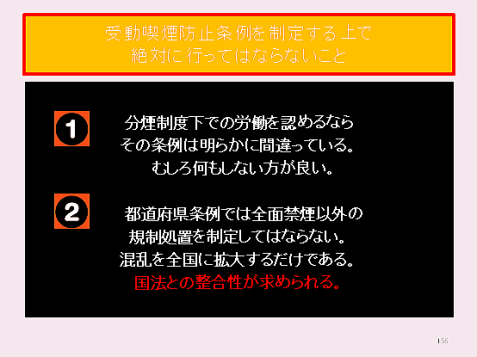 (L) A lobby and corridor of a hotel should be non-smoking. Taiwan and Boston, Massachusetts enforced the smoke-free policy in all hotels.
(R) Absolutely, no local ordinance should be established, if it allows the separate smoking indoor space in which a laborer works.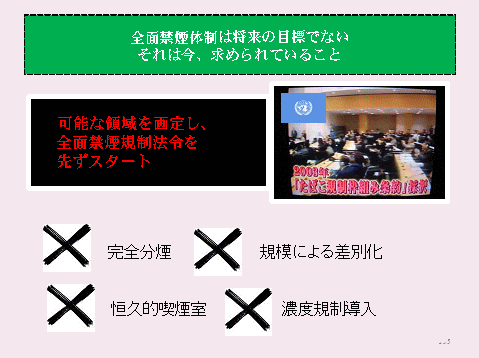 A total smoking ban in a public indoor space is not a future goal, but it is the eminent need for all Japanese people.
Th law should not allow a permanent separate smoking room, nor loopholes for a small-size eateries.
It should always be simple and clear, and should be recognized that there is no other choice other than the total smoking ban.

講演抄録

屋内での喫煙行為を全面的に禁止することが、タバコから放散される発癌物質を含む有害煙の脅威から
人々を守る唯一の手段であり、今 世界各国は、こぞって公共的閉鎖空間の全面禁煙制度の法制化を
進めて来ている。しかし、日本では未だに低レベルでの議論に終始し、法令を審議し立案する当事者に、
どのような法的規制を行って行くべきか、そこに貫く理念が全くない。

こうした中、タバコ会社は着々とその影響力を浸透させて来ている。タバコの広告規制をかいくぐって
テレビでの「分煙」広報活動の強化、路上での喫煙マナーを求め、きれいな街作りに貢献して いるように
見せている。その狙いは、喫煙率低下に直結する屋内空間における全面禁煙を阻止し、屋内喫煙を
定着させるため、一般の人や禁煙活動家の注意を屋外に向かわせることにある。

私は日本の受動喫煙防止法は国が制定すべきものと考えるが、地方分権の考えに沿って地方自治体が
立ち上げるべきとの意見もある。国レベルにおける喫煙規制は期待できないとして、神奈川県は独自に
「受動喫煙防止条例」を制定した。しかし、取り返すことの出来ない失敗は、先進国 が2003年に放棄した
制度、「そこで人が働く分煙体制」を県の条例に取り入れたことにある。知事は経営上の観点から
分煙制度を許容導入し、室内喫煙空間の整備を約束した。

私は2006年から欧米、オセアニア、アジアでの喫煙規制を現地に取材し「禁煙席ネット」情報として英語、
日本語で発信してきた。世界は明らかに全面禁煙体制に移行して来ており、国民はそれを受け入れている。
残念ながら日本のように分煙制度を整備して行くことを考えている国は他にない。

今回は海外でどのように喫煙規制が行われているか、その実情を詳細に報告し、日本が今後採用すべき
法的道筋を示す。その過程で全面禁煙規制を小さな領域からスタートさせ、段階的に拡大して行く方式を
推奨し、提言して行きたい。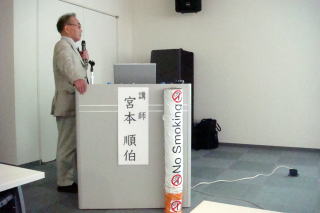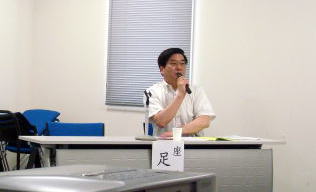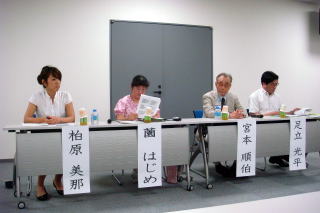 (L) A guest speaker, Dr. Junhaku Miyamoto (M) Chairperson, Dr. kohei Adachi
(R) Symposist: Ms.Mina Kashiwabara, Dr. Hajime Sono, Dr. Junhaku Miyamoto and Dr. kohei Adachi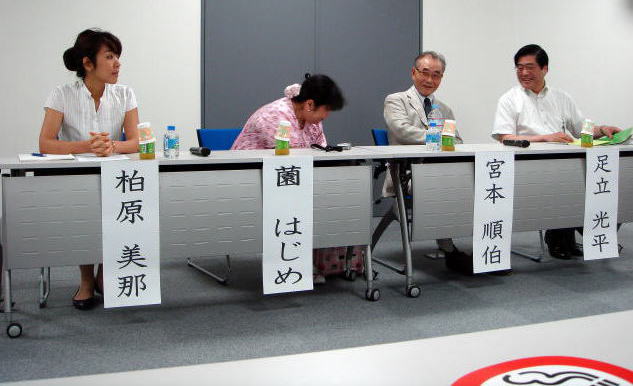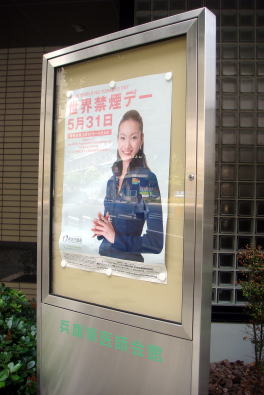 A presentation entitled ' A total indoor no-smoking policy is in progress in the advanced country.' was given by Dr. J. Miyamoto,
a director of 'Smoke-free Tokyo' at the Hyogo Medical Society, Kobe, Japan. Symposists were Dr. Francisco Armada and Ms. Mina Kashiwabara,
WHO, chairman, Dr. Kohei Adachi, Hyogo Medical Society and Dr. Hajime Sono, Hyogo Tobacco Free Advocacy.

Dr. J Miyamoto stressed that smoking ban should be applied to all public indoor spaces. He proposed that a total smoking ban should be
simple and clear, excluding numerous exceptions.

今回の講演で「禁煙席ネット」の宮本主宰は、世界が全面禁煙を主軸とした受動喫煙防止法を制定し、
完全に運用している中、日本では未だ低レベルでの議論に終始していると述べた。国および都道府県で
条例を立案する当事者は、世界で進行している屋内全面禁煙制度導入に躊躇し、むしろ、今まで画期的だと
誤認されている神奈川県条例をたたき台に審議していると見られる。もし条例で、同じ様な分煙制度を
公認して行けば、その弊害は日本全土に広がる。そしてその結果、日本は先進国中で唯一、「分煙体制」
を採用した、世界で「最も好ましくない喫煙規制国となる」と再度警告し、屋内全面禁煙の条例成立こそ、
唯一の残された道であることを強調した。




WHO 日本における屋内禁煙の必要性を浮き彫りにしたシンポジウム
Symposium highlights issue of indoor smoking bans in Japan

June 6, 2011- Physician and tobacco control advocate Dr Junhaku Miyamoto called for "simple and clear"
measures to provide people with full protection from exposure to secondhand tobacco smoke in Japan,
at a public forum, 'WHO Framework Convention on Tobacco Control (FCTC) . He shared examples of
smoking bans enforced in more than 20 cities worldwide adopting the global standard of smoking bans
in indoor public environments. The event was organized by Tobacco Free Advocacy, a tobacco control
group in Hyogo and Hyogo Prefecture Medical Association.
Source: WHO Kobe Centre



 論説 「公共的施設内全面禁煙規制」 導入への道筋
The way to cope with the resistance to a total smoking ban in public places in Japan
2009年および2010年日本禁煙学会総会シンポジウム講演内容を加筆編集したものを公表


論説 分煙は不可、神奈川県の過ちを繰り返すな! (英文)
Do not repeat the mistake of the Kanagawa anti-smoking ordinance.
・・ 先進国が2003年に放棄した分煙制度を採用し、労働者の健康を無視、
・・ 制定ありきのパフォーマンスに終始した県条例
・・・『純正品の効用を引用して、まがい物を販売する商人』


 時論「世界から大きく乖離した日本の受動喫煙防止対策」
It's your turn." Prime Minister Noda:
Prevention of the passive smoking in Japan, which is widely deviated from the world.


新聞 Herald Tribune International (ヘラルドトリビューン紙掲載)
Japan must move faster on anti-smoking laws. 受動喫煙防止法の制定を急げ(英文)


 書籍「一匹狼の国」




兵庫県医師会講演「先進国で進む屋内全面禁煙」
2011年6月講演 2011年8月執筆
「禁煙席ネット」主宰 宮本順伯
著作権は「禁煙席ネット」主宰 宮本順伯に帰属
★『禁煙席ネット』 サイトへのリンクは自由