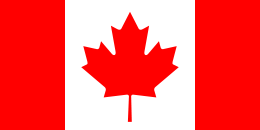 Emerald Lake, B.C.





An untouched Emerald Lake & Van Horn Range, photographed in 1902.

Emerald Lake, British Columbia

Emerald Lake is located in Yoho National Park, British Columbia. It is the largest of Yoho's 61 lakes and
ponds, as well as one of the park's premier tourist attractions. Emerald Lake Lodge provides a local
accommodation. There is a relatively easy 5.2 km hiking trail circuits the lake. During the summer-
months canoe rentals are available; in the winter, the lake is a popular cross-country skiing destination.
The lake is enclosed by mountains of the President Range, as well as Mount Burgess and Wapta Mountain.
These structural landforms cause frequent rain in summer and heavy snowfalls in winter. This influx of
moisture works with the lake's low elevation to produce a unique selection of flora. Trees found here
are more typical of that of B.C.'s wet interior forests.
Reference: Wikipedia


A sign board of the Emerald Lake Lodge and Restaurant

A delicious steak is served with a Japanese cast-iron teapot. The restaurant seat is surrounding by a peaceful lake and mountain.

(L) A hall of the restaurant of Emenrald Lake Lodge (R) Rocky mountain range viewed from the Emerald Lake Lodge.

(L) A lakeside Emerald Lake Lodge restaurant (R) Emerald Lake Lodge has a total of 85 rooms. All guest rooms are non-smoking.

(L) A lakeside guest room with a real fire place (R) Emerald Lake and a maintenance houses.

(L) A lakeside walkway (R) Emerald Lake Lodge entrance at the right side

(L) A bridge to the Emerald Lake Lodge (R) A guest house with a hanging flower pot

It is very pleasant time to spend in the hot whirlpool, with the lake and mountain view.

(L) A warning sign and the red tape indicating that this is the closed area ordered by the National Park Services.
(M) A bear appeared nearby. After this incident, all hiking trails were closed.
(R) A damage caused by a black bear.

(L) A car of the Parks Canada
(R) A park ranger warned a visitor about the danger of bear. She carries a revolver and bullet in her waist belt.

Emerald Lake

神秘的なエメラルド・レイクはエメラルド・グリーンの水が広がる湖。ヨーホ国立公園の中にある。レイク・ロッジ
氷河の堆積物(モレーン)の上に立つ。1902年の写真では、手つかずの自然が残されていたが、今は開発され人が
利用されやすいようになっている。手が加えられたとはいえ、そこには美しい自然と静寂さとを満喫できる場所が
ある。湖を一周するハイキングを予定していたが、到着時に現れたブラック・ベアのために実現できなかったのは
心残りであった。

H
Smoking Restriction at Hotels in the World: Actual Survey
The ratio of a non-smoking guest room to the total hotel rooms was calculated,
based on the on-the-spot investigation.

Canada
Smokefree British Columbia Smokefree Alberta  Trip to Canada 2011 Vancouver North Vancouver
Whistler Skytrain  VIA train Jasper Icefield and Bow Summit Emerald Lake Lake Louise
Banff Calgary Edmonton Hospitals in BC and Alberta Tobacco control in B.C. and Alberta 2011


エメラルドレイク
2011年7月執筆
執筆 医学博士 宮本順伯
★This Web site is link-free.
This information was provided by the Smokefree Hotel and Travel.
The article was written and photographs were taken by Junhaku Miyamoto, M.D.,PhD., in July 2011.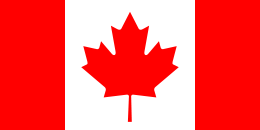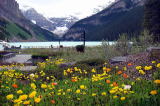 Lake Louise, Alberta, Canada



Special Note: 日本語表示

 Russia unduly occupies our Northern Territories of Japan.
 Smoke-free hotels in Japan
  Domestic travel in Japan
 WHO: Smoking should be banned in all public spaces.
 World population: seven billion v.s. Declining birth rate in Japan
 Nobody in the earth can destroy the natural beauty of the land.
 Stop merging war criminals and war victims at Yasukuni Shrine.
 Tax saving's rental housing is mushrooming.


Copyright (C) 2006-2021 Junhaku Miyamoto, PhD. All right is reserved.

Smoke-free rental condominium in Tokyo (PR)
Junhaku Miyamoto: profile
Tokyo regional weather forecast



Smoke-free Hotel and Travel
受動喫煙防止条例  屋内全面禁煙  屋内喫煙設備撤去 鉄道車内完全禁煙

レンタカー レストラン バー 飲食店 ホテル 空港 喫煙規制
Restaurant hotel railway rent-a-car travel airport condominium tobacco smoking ban   

Twitter@worldviewtokyo 

Twitter: @smokefreejpn

Twitter@criticismjpn

Twitter@nosmokechintai