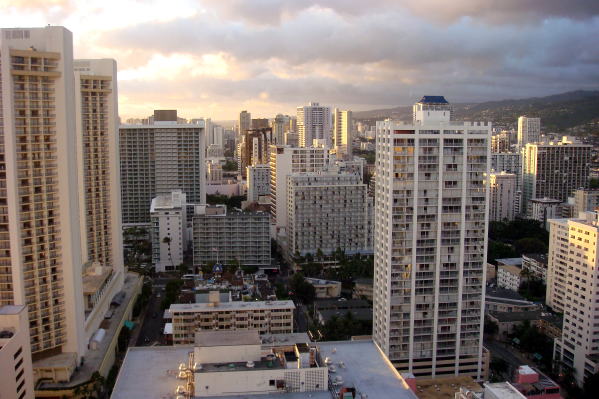 The city center of Waikiki Beach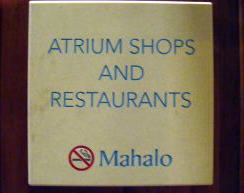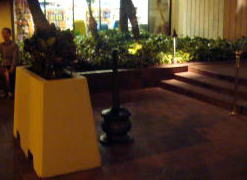 (L) No smoking sign plate near the entrance to Hyatt Regency Waikiki Resort & Spa, Waikiki Beach.
(R) A stand cigarette butt receptacle at the entrance/exit of the shops of Hyatt Regency Waikiki Resort & Spa.
Hyatt Regency Waikiki Resort & Spa, Waikiki Beach faced on the Kalakaua Avenue has the 1230
guestrooms. All rooms are smokefree. However, hotel guests may smoke at a balcony limited to
the 11 floorsof this hotel. It consists about 20 to 30 % of the whole building. No smoking is allowed
at the main entrance to the hotel. Although, at the two entrance to the shopping arcade, there is
a stand ashtray, and almost always, there is a smoker around that place.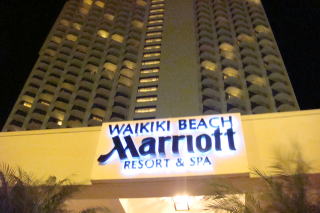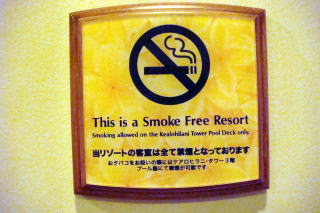 (L) A night view of the Waikiki Beach Marriott Resort Spa, which enforces a total smoking ban inside of the hotel.
(R) A sign board stating this is a smoke free resort. It says that 'This is a smoke Free Resort 'Smoking allowed
on the Kealohilani Tower Pool Deck only'.
下の日本語表示 (おタバコでなく、タバコとすべきであろう)
Waikiki Beach Marriott Resort Spa is a smoke-free hotel. No one can smoke inside.
The only place a hotel guest can smoke is the outside poolside.

 オアフ島ホテル喫煙規制 オアフ島の観光客は日本人が圧倒的に多い。しかもそのほとんど団体客だ。
新禁煙法が施行されているワイキキビ−チで多くのホテルはどのように対応しているのだろうか。いくつかの
著名なホテルの喫煙対応を取材して見た。
●オアフ島ワイキキ、シェラトン・モアナ・サーフライダー・ホテルは1901年創立され、"First lady of Waikiki",と
呼ばれる歴史あるホテルである。700以上ある全客室が禁煙ルームである。ロビーを含め、屋内での喫煙はすべて
禁止している。
●ハワイの象徴的なホテル、ロイヤルハワイアンはさりげなく「喫煙は法律によって禁止されている」との禁煙
標識を要所要所に掲示している。528のゲストルームのうち、6階建てのHistoric Wing の最上階が喫煙フロア、
17階建てRoyal Tower の10階〜15階、17階を喫煙フロアに当てている。喫煙ルームの全客室への割合を聞くと、
最初は「30%〜40%」と答えたが、新禁煙法の話を持ち出すと、「思い違いでした、20%かそれ以下です」と
訂正した。いずれにせよ、かなり高い比率で喫煙客を受け入れ、しかも上層階の眺望のよい部屋を充当している
ことになる。従って、高層階の部屋を望むなら、タバコのにおいのする部屋で我慢せねばならないだろう。
●ハイアットリー・ジェンシー・ワイキキ・レゾート・アンド・スパはワイキキのメインストリート、Kalakaua
Avenue に面した高級レゾートホテルである。1230室、全客室が禁煙である。ただし、11フロアの客室バルコニー
では喫煙が出来るように設定されている。その割合は20%〜30%とのことである。ホテル玄関横には禁煙標識が
あるが、ホテルショップ出入口の2カ所には通路の中央にスタンド灰皿が置かれ、いつも誰かが喫煙している。
筆者は3回ほどここを訪れたが、喫煙している人は、すべて日本人のように見えた。出入口から20フィート離れた
場所かどうかは、出入口の定義により解釈が異なるが、受動喫煙のリスクを受ける憂いは少なくない。
●ワイキキのワイキキ・ビーチ・マリオットは、1310の客室を有し、多様の施設を有する著名なホテルである。
ホテル客室内、ロビーなどの公共空間、宴会場、レストランなどの館内は全面禁煙で、外のプールサイドに
喫煙所を設けている。
●ワイキキのパシフィックビーチホテルには38階の Oceanarium Towerと17階のBeach Tower がある。喫煙
客室は7階〜10階、19階〜22階、30階、31階にある。喫煙所はプールサイドに設けている。喫煙ルームの
全客室への割合は大体10%くらいとのことである。
●オアフ島ワイキキのシェラトンワイキキは日本人団体客の多いホテルである。31階建て、総客室数は1852室
あるが、ダイヤモンドヘッドが一望できるオーシァンビユールームに人気が集中している。喫煙フロアは25階
から30階となっており、全ゲストルームの20%を占める。
●オアフ島ワイキキのシェラトン・プリンセス・カイウラニは全室、1152室の大型ホテルであり、そのうち、
7フロア、104室が喫煙ルームとなっている。内訳はKaiulani wing 3フロア, Princess Wing 1フロア、Tower
3フロアとなっている。全室に占める喫煙室の割合は9%となる。玄関外のアプローチの喫煙所には2基のスタンド
灰皿が設けられ、日本人などの多数の観光客がかたまってタバコを吸っていたが、「Smoke-free State」を
宣言したハワイという土地のなかで何か異様な光景であった。
●●女性フロント係に「プールサイド以外に吸えるところはないか」問いただしたところ、喫煙者以外が喫煙場所を
問い合わせることはあり得ないためか、筆者が日本人喫煙者で「ホテル内が全面禁煙であることに苦情を申し入れた」
と勘違いし、押しこらえていた感情を爆発させた。禁煙は・・「It's law」、「It's law」、「It's law」、と3回、
非常に強い口調で繰り返し、「空港も全面禁煙になっている」こと、「全面禁煙はこのホテルだけではない」こと、
2006年年1月にハワイは健康社会を目指し「Smoke-Free State 」を宣言したことなどを立て続けに語った。
やや興奮気味に話したので他のフロント係員が宿泊客とのトラブルかと近づいて来たほどであった。この係員は
多くのハワイ住民の抱えている喫煙者に対する不快感を代弁しているようにも思えた。「私はあなたの味方です」
と言いたい気持ちだったが、どうも筆者が受動喫煙防止のため努力している立場にあると理解してもらえなかった
ように思われた。
---

Smoking Ban in Hotels at Big Island of Hawaii
All hotel rooms of 1240 are smoke-free at the Hilton Waikoloa Village. The only place at which smoking is allowed is
a balcony on the top floor of the Ocean Tower. There are three designated places for smoking in a garden of the hotel.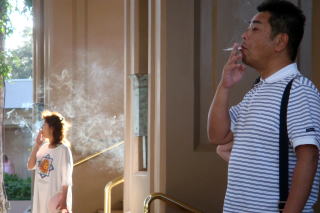 The smoking guest rooms are located on the top floor but smoking inside is prohibited.
At the balcony is the only place a hotel guest can smoke.
Oriental smokers, perhaps Japanese, are smoking at the forbidden area of the hotel without hesitation.
(左)ハワイ島 Hilton Waikoloa Village 最上階ゲストルーム・バルコニーの灰皿
(右)ホテル敷地内の本来喫煙の許されていない場所でも平気で吸っているホテル宿泊客(多分日本人)

 マウイ島ホテル喫煙規制 ハワイ島の西北西に位置するマウイ島は気候が温暖で、カアナパリ
(Ka'anapali)を中心とした西海岸地方に山に降らせた貿易風が乾いた風となって吹いているため、夏でも
涼しく、晴天の続く日が多い。このような恵まれた環境にあって数多くの世界有数の豪華ホテルが集中して
立地している。ワイキキが一般大衆向けのリゾート地とすれば、ここマウイの西海岸地帯は裕福な人々が
ゆったりとした時間を過ごす最高級のリゾート地といえよう。
●シェラトン・マウイ・リゾートは全室禁煙である。室内では一切タバコを吸えない。「万一、そうした行為
があった場合は喫煙前のお部屋の状態に戻すクり−ニング代金として、200ドルがお客様負担となり、お部屋に
加算されます。予めご了承ください」と日本語表示されている。喫煙希望者は予約の段階で6階の「バルコニー
のみの喫煙に限定した」ゲストルームを申し込まねばならない。この場合も室内での喫煙は絶対に不可である。
喫煙者は歓迎しないが拒否しないとのニュアンスを読み取れた。
2007年3月、東京六本木「ミッドタウン・タワー」高層階に開業したザ・リッツ・カールトンのスイート
ルームは1泊210万円と話題となったが、世界展開するこのホテルはマウイ島にも豪華な施設を提供している。
チェックインと同時に宿泊料の2.2倍のデポジットをクレジットから引き落される。ルームチャージは割高、
食事はイタリアレベルで判断すると、それほどおいしくない。全室禁煙であるが、特に禁煙標識はない。
喫煙ゲストに対しては玄関入口の両側にベンチとスタンド灰皿を設けているが、こちらから聞かない限り
分からない。ただ、この場所は通路車寄せの場所でもあり、出入口から20フィート以上離れているとはいえ、
歩行者が受動喫煙の被害に遭うことがある。バレ-(ト) パーキングならともかく、セルフパーキングの
場合は駐車場への通路にあたるので、喫煙者がいればその可能性は高い。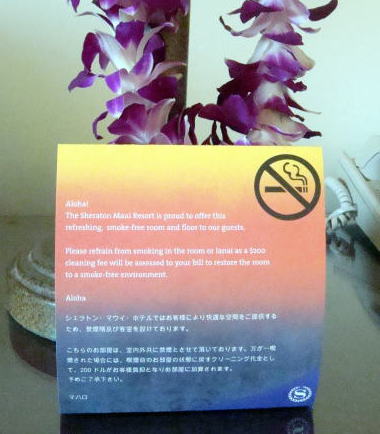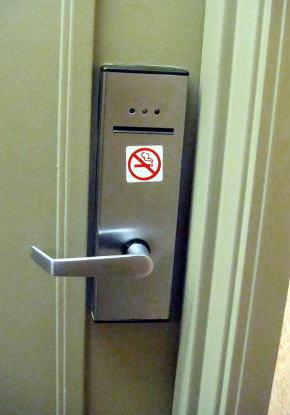 (L) An information board is placed on the desk of Sheraton Maui Resort. It says the fine is $200 in case of violation.
(R) No smoking sign pasted on the room key at the Sheraton Maui Resort.
A black sand beach
ハワイ島南東、溶岩が海に流れ冷え固まり、細かく砕けてできた黒砂海岸

Big Isle Council approved smoking bans in beach parks.
In April 2008, the Hawaii County Council voted to approve a ban on smoking at Big Island beach
parks and recreational facilities. In addition to parks and beaches, the measure would also ban
smoking at the municipal golf course. Two beaches in Hawaii are currently smoke-free; this is
Hanauma Bay Nature Preserve of Oahu Island and Kahaluu Beach Park of Big Island. This bill is
the first countywide initiative in the state.
Hilo Councilman J Yoshimoto, who introduced the island wide ban, said the measure would improve
health and the quality of life on the Big Island. He also said he was most concerned about protecting
children's health, setting a positive example and preventing cigarette butt litter. Nosia Shammy,
a Kealakehe IntermediateSchool fifth-grader, said she worries about people and the environment.
"I'm not here to tell adults what not to do, but to let them know that we care about what happens
if everyone chooses to smoke," she said. "Can you imagine what it would be like if adults could
smoke wherever they liked? That would be so unhealthy. "We're trying to get smoke-free beaches
all across the state," she said. "We hope this will lead the way for other counties to take the same
initiative."
Source: March 13, 2008 Star Bulletin

H
Smoking Restriction at Hotels in the World: Actual Survey

The ratio of a non-smoking guest room to the total hotel rooms was calculated,
based on the on-the-spot investigation.

Smokefree Hotels in Japan

Hawaii

Arrival to Hawaii

Airports in Hawaii

Shopping malls

Restaurant and cafe

Kauai Island 

Maui Island

Hotels of Island of Maui 

Island of Hawaii 

Oahu Island 

Smoking ban in the states of Hawaii

smoking ban in hotels in Hawaii

Tobacco sales

Smoking Travellers