University of California researchers has shown California's tobacco control program managed to reduce
medical costs by about 86 billion dollars (roughly 9 trillion yen) over a 15-year period. During this period,
the state invested 1.8 billion dollars in the control program, indicating the return from the investment
was about 50-fold.The research team compared California's medical expense and other factors with those of
38 other states that had not implemented comprehensive tobacco control programs prior to 2000. It found
that the number of patients with heart disease, lung cancer and other ailments dropped, and the spending
for a health care in 2004 was about 7.3 percent below the figure recorded in 1989, saving roughly 86
billion dollars.
Source: The Mainich Daily News, September13, 2008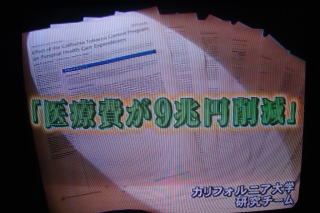 NHK reported on TV that the state of California saved the 1.8 billion dollars medical expenditure brought by a smoke-free ordinance.
喫煙規制後のカリフォルニア州で9兆円規模の医療費削減
カリフォルニア州法で最初に施設内での喫煙規制が実施されたのは1989年といわれているが、レストランにおける
喫煙規制が実施されたのは1994年で、1998年にはバー、クラブでの全面禁煙が実現した。州当局は積極的にタバコ
を吸うことの危険性、またタバコの先から放散される副流煙の有害性につき、メディアを通じて広報活動を続けて
きた。この目的のために、過去15年間に18億ドル(2008年9月現在、1ドル107円)の資金を投入してきた。
カリフォルニア大学研究チームの分析によれば、この間に削減出来た医療費の総額は860億ドルとなり、投入した
金額の50倍ほどの投資成績を上げた計算となる。研究チームは「規制は即効性があり、効果も大きい」と述べている。
カリフォルニア大学では、2000年までに喫煙規制を行わなかった他の38州の医療費との比較検討も行った。
その結果、2004年の医療費は5年前のそれと比べ73%、金額で860億ドル節約できたはずと分析した。一方、
タバコ販売量の減少額は92億ドルに達しただろうと推測している。
資料引用  2008年9月12日付毎日新聞
---

 UCSF Medical Center 2012

  California senate approved smoking ban for apartments.
Total Smoking Ban in USA

 New Jersey

 Illinois

 California

 Beverly Hills, California 

 Condominium of California

 State of Washington

 Oregon  

 Montana

 Colorado

 Arizona 

 Maine

 Vermont 

 Massachusetts state.

 New York 

 Maryland 

 Washington,D.C.

 Virginia

 Minnesota 

 Delaware 

 Ohio 

 Iowa 

 Utah 

 Rhode Island 

 Nevada 

 Michigan 

 Wisconsin

喫煙規制の先駆者、カリフォルニア州で9兆円規模の医療費削減
2008年9月執筆 2009年11月英文加筆
執筆 医学博士 宮本順伯
★This Web site is link-free.
The articles were written in September 2008, by Junhaku Miyamoto, M.D., PhD.