Grand Hotel Taipei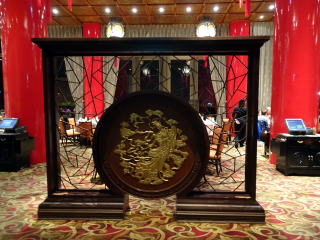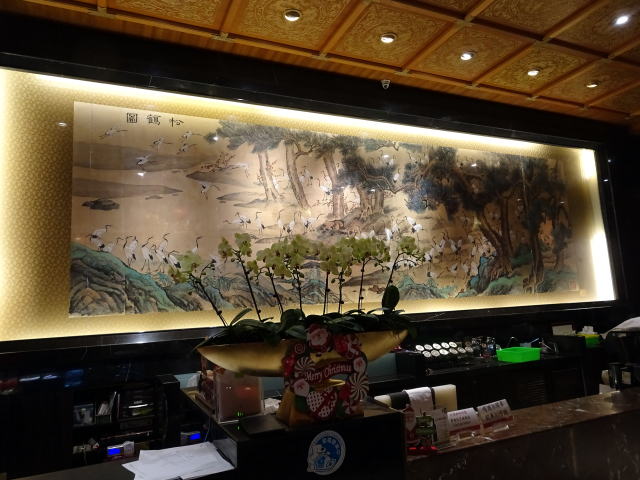 (L) The entrance to a dinning room
(R) A payment place of the dinning room, with a wide painting panel of a pine tree and auspicious crane


The Grand Hotel retains the elements of classic Chinese's architecture in its building. It is not only the most
splendid landmark of Taipei, but representative of contemporary palatial architecture. The guest rooms,
decorated with both oriental and western details, offer the most comfortable stay. The Grand Hotel provides
a free shuttle bus service from Yuanshan MRT Station, an 8-minute drive away. It houses a grand ballroom
and conference facilities. The hotel is a 15-minute drive from Taipei Station and Songshan Airport.
National Palace Museum is a 20-minute drive away. The total number of guest rooms is 500.

History
The Taiwan Grand Shrine was the tallest ranking Japanese Shinto shrine in Taiwan during the Japanese
colonial rule. Among the 66 officially sanctioned Shinto shrines in Taiwan, Taiwan Grand Shrine was one
of the most important, and its elevation was also the highest of the shrines. The Taiwan Grand Shrine was
built as Taiwan Shrine in 1901 (Meiji 34)atop Jiantan Mountain Taipei. In April 1923 Crown Prince Hirohito,
who would become Emperor Showa three years later and died in 1989, embarked on a two-week tour of
Taiwan. In October 1944, prior to the Taiwan Shrine Festival, a passenger transport plane lost control
and crashed down the mountain where the Taiwan Grand Shrine was located. The accident and resulting
fires destroyed the Torii ceremonial archway, stone Toro-lanterns, among other important structures.

After World War II, Taiwan Hotel was built on the original site of the Taiwan Grand Shrine. It was later
expanded in 1952 to become the present-day Grand Hotel. In the political reasons of the Chinese National
Government, the underpass of length of 180-meter was built towards the parks, which is now open to
a public as a special tour. At first, it was forbidden to use both Japanese and English because of that it is
the Chinese-made top -class hotel in Taiwan.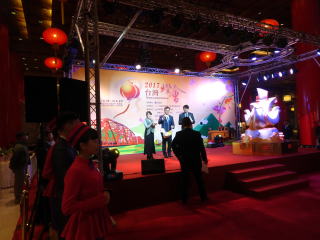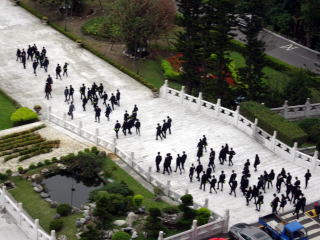 (L) A reception desk (M) TV recording in progress (R) The crowd leaving the hotel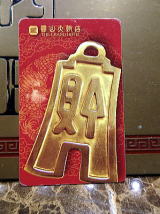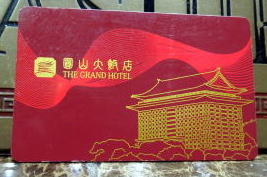 A room card-key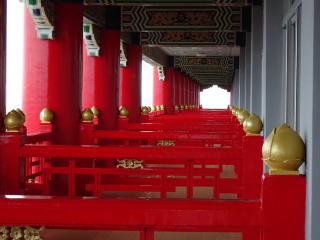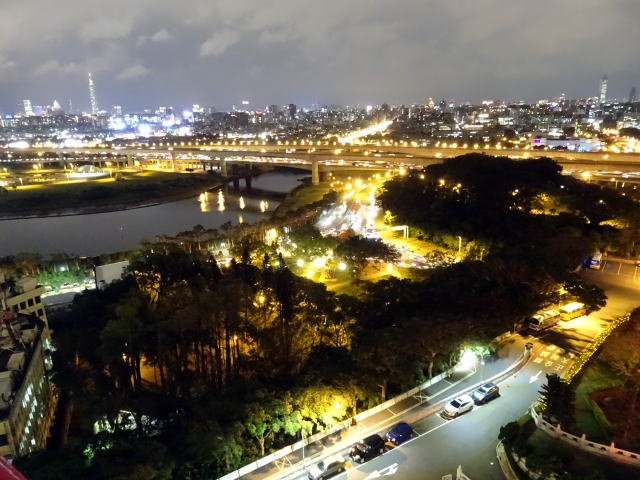 (L) Chinese-style balcony in red pillars and partitions (R) A wide view from a balcony of the hotel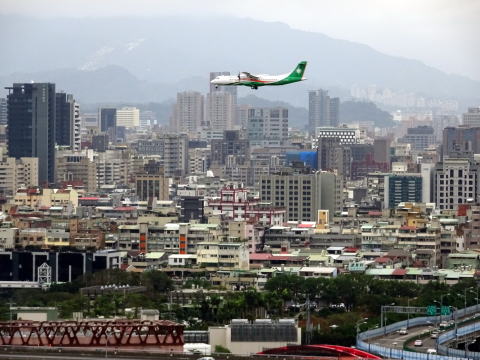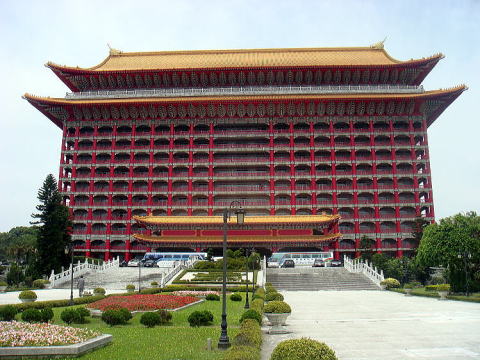 (L) We can see from a balcony an aircraft is approaching to the Taipei Songshan Airport over the crowded city area.
(R) The hotel's roof is believed as the world's largest Chinese classical style roof, providing
the appearance of a large hotel building stands on the hill. This picture was taken in May 2009.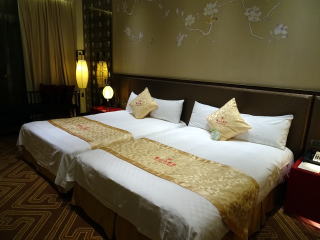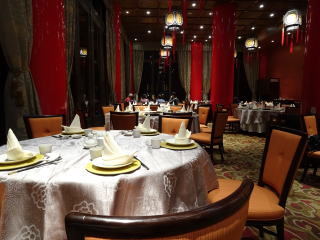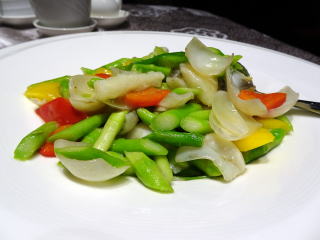 (L) A twin bedroom (M) Dinning room (R) Chinese-style vegetables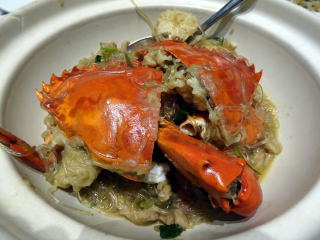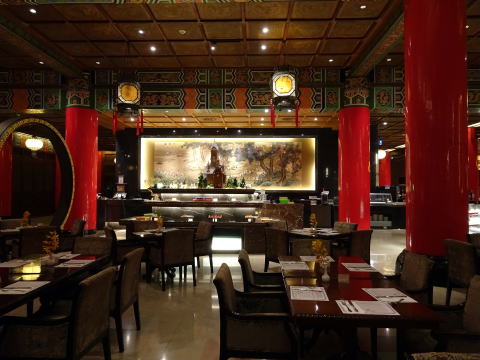 (L) A cooked Shanhei crab
(R) A dinning room with the panel of pine trees and crane birds, both are considered to bring a happiness on the back.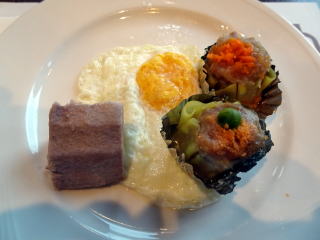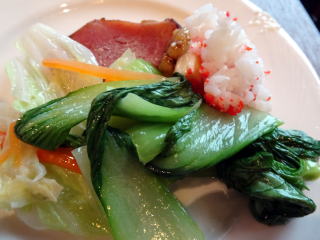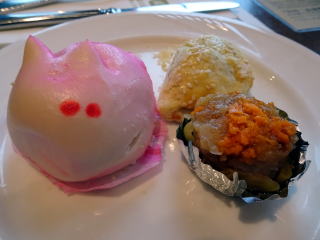 Breakfast buffet provides a variety of rich meals.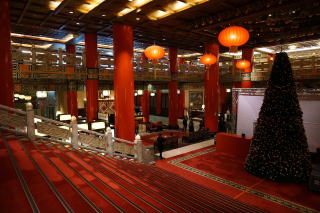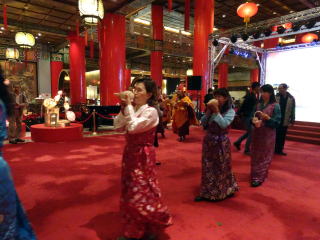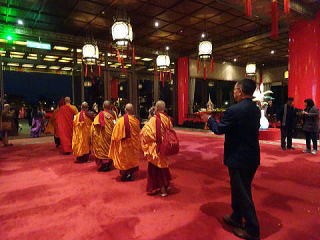 Christmas decoration in the hall and New Year's holiday event



$B1`;3BgHSE9(B 2009



H
Smoking Restriction at Hotels in the World: Actual Survey
The ratio of a non-smoking guest room to the total hotel rooms was calculated,
based on the on-the-spot investigation.

Taiwan 2009


Smoke-free Taiwan Yaoyuan Airport

Taiwan High Speed Rail

Taiwan Railway


Welfare and security support by Taipei MRT

Taipei along MRT line (Hot Spring Valley, National Palace Museum )


Taipei long MRT line ( Long Shan Temple )

Taipei along MRT line ( Taipei 101 Building )


Taipei along MRT line ( Grand Hotel Taipei, Chiang Kai-shek Memorial Hall,NationalTaiwanUniversity )


Kaohsiung MRT, Kaohsiung Airport$B!!(B

Kaohsiung City

Smoke-free public transportation$B!!(B


No smoking guest room in Taiwan

Smoke-free restaurant and bar in Taiwan

Smoke-free Hospital


Health warning for smoking in Taiwan

A new era in a chinese culture and life in the island of Taiwan


Departure from Taiwan

Taiwan 2016


Railway trip in Taiwan 2016

Jiufen

Sun Moon Lake Hotel

Taipei Grand Hotel


Taipei Grand Hyatt Hotel

Taipei city tour 2016

Japanese influence on culture of Taiwan



Grand Hotel Taipei
$B<9I.!!0e3XGn;N!!5\K\=gGl(B
$B!z(BThis Web site is link-free.
This information was provided by the Smokefree Hotel and Travel.
The photographs were taken in Dcember 2016, and article was written in January 2017,
by Junhaku Miyamoto, M.D., PhD.