A speed limit is 90 km on the newly built highway, Route 39, in the mountainous region.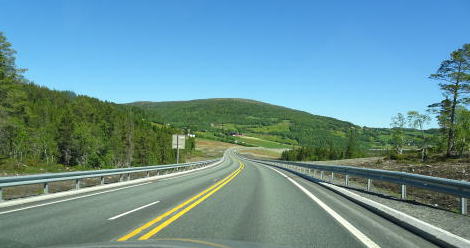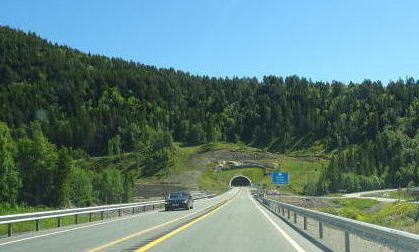 Approaching to Harangs-Tunnelen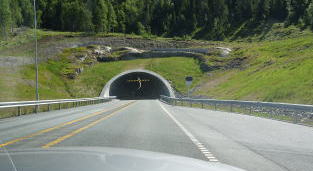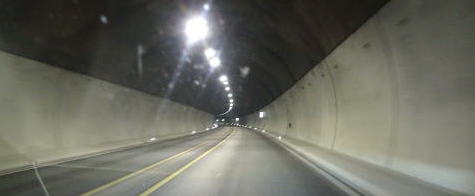 Harangs-Tunnelen on E39, Norway, The length: 780m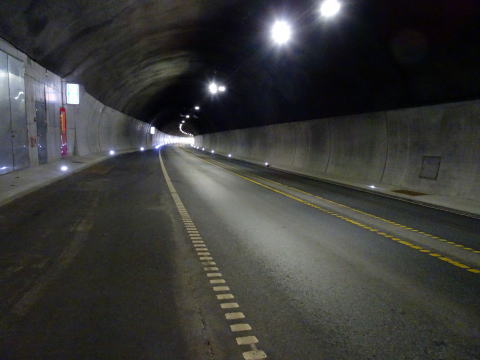 The center point of the Harangs-Tunnelen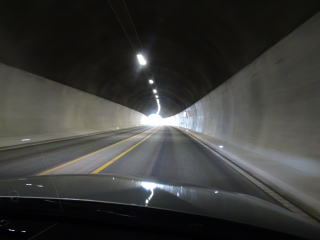 The bilateral guide lumps on the level of pavement in the tunnel.
It makes a car driver learn the illusion as if flying on a runway on the underground.
This is one of the most simple and the charming tunnels in Norway.

Laerdal Tunnel, the World's Longest Road Tunnel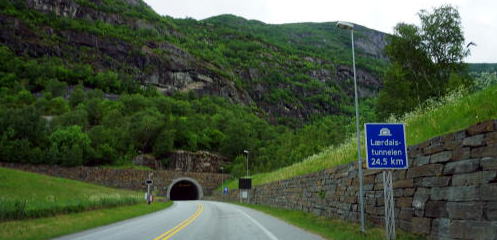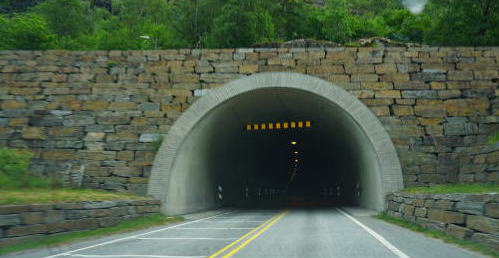 The entrance of Laerdal Tunnel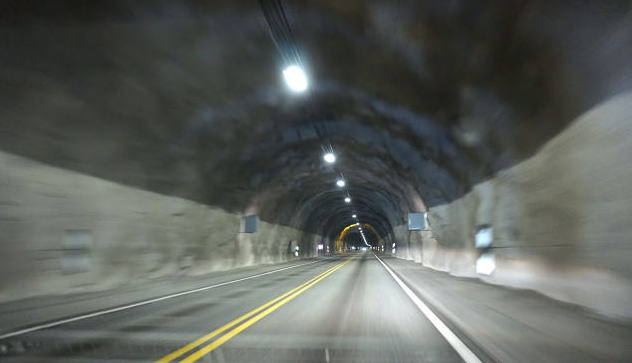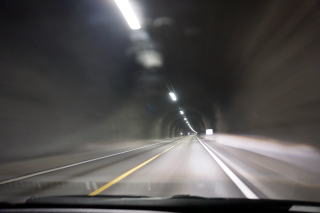 The exciting moment to drive a very long tunnel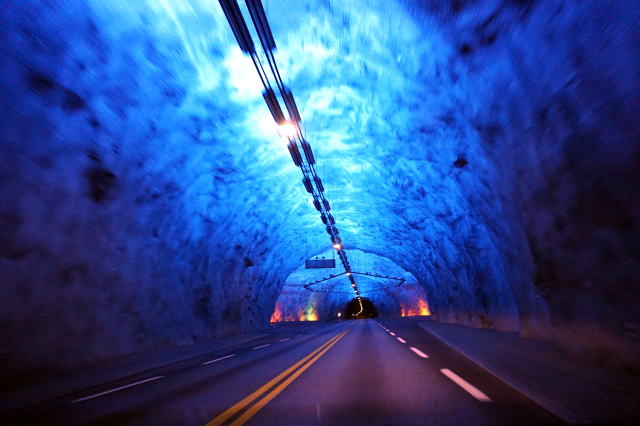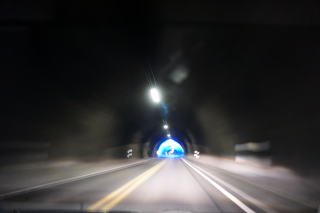 The tunnel caves have blue lighting with yellow coloring.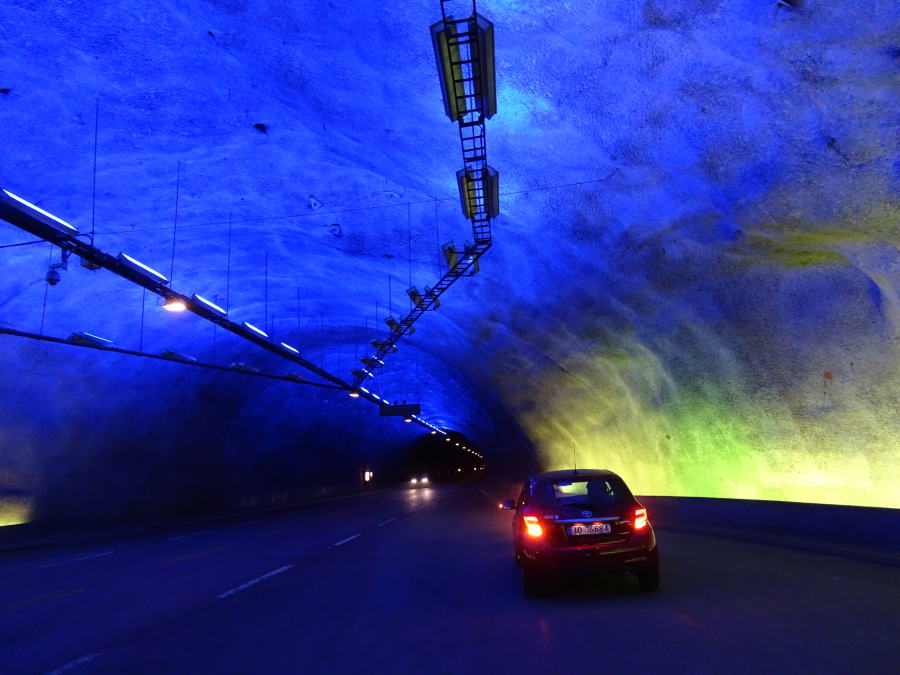 The center cave of Laerdal Tunnel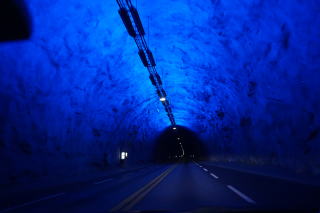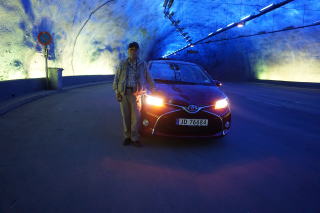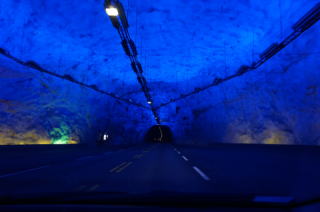 A rented car and myself at the mid-point of over 24000 m:
An air is well ventilated and purified and all tunnel environments are very clean, and there is no smell of exhaust gas.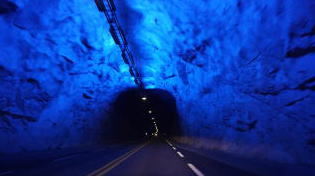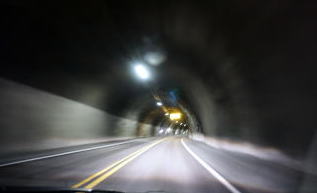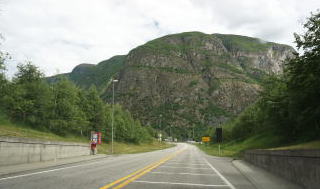 (L) There are three lage caves in the course through the tunnel, so that we can take a brief stop.
(R) Right after we passed through, a bright sunlight jumped into eyes.
Laerdal Tunnel is a 24.51-kilometer long road tunnel connecting Laerdal and Aurland. It is the longest road tunnel
in the world succeeding the Swiss Gotthard Road Tunnel. The tunnel carries two lanes of European Route E16 and
represents the final link on the new main highway connecting Oslo and Bergen without using ferry and difficult
mountain crossings during winter. In 1975, the Parliament of Norway decided that the major road between Oslo
and Bergen would run via Filefjell. Construction started in 1995, with relatively poor levels of reliability in road
transport due to the mountainous area and narrow roads combined with many fjord crossings.$B!!(BThe tunnel was
opened in 2000. It cost 1.082 billion Norwegian krone.
High air quality in the tunnel is achieved in two ways: ventilation and purification. Large fans draw air in from both
entrances, and polluted air is expelled through the ventilation tunnel to Tynjadalen. The Laerdal Tunnel is the first
in the world to be equipped with an air treatment plant, located in a 100-meter wide cavern about 9.5 kilometres
northwest of Aurlandsvangen. The plant removes both dust and nitrogen dioxide from the tunnel air. Two large fans
draw air through the treatment plant, where dust and soot are removed by an electrostatic filter. Then the air is
drawn through a big carbon filter which removes the nitrogen dioxide.
Reference: Wikipedia

Atlantic Ocean Tunnel, one of the deepest undersea tunnels in the world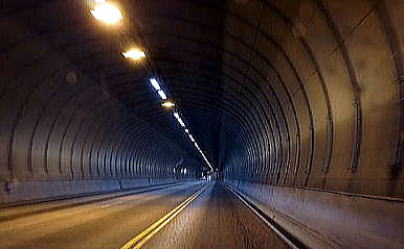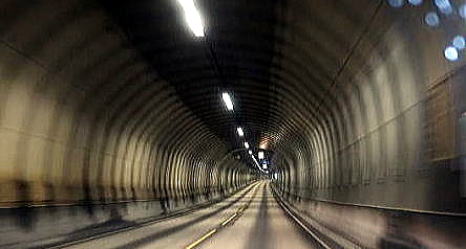 Atlantic Ocean Tunnel 5727m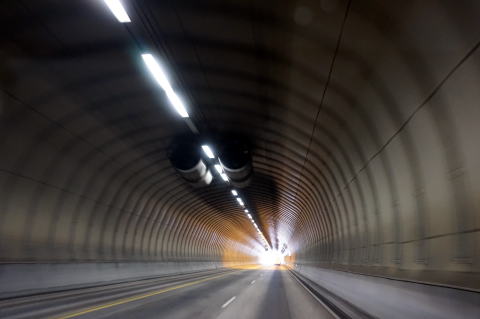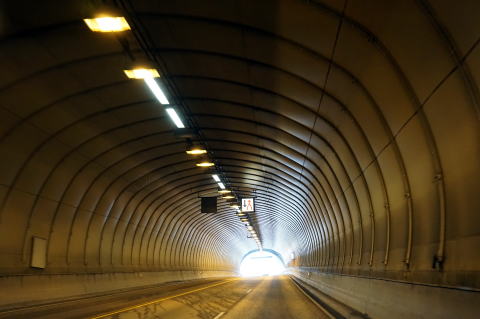 All typical undersea tunnel roads in Norway provide two-lane traffic in both directions on the flat horizontal running.
However, it provides two lanes on climbing the slope, and one lane on going down the slope.
Atlantic Ocean Tunnel is an undersea tunnel that is part of Road 64. It connects Kristiansund and Sveggen.
The 5,727-meter long tunnel runs beneath the Bremsnesfjorden, reaching a depth of 250 metres, making it
one of the deepest undersea tunnels in the world. Construction began in 2006, and the tunnel opened in 2009.
The name of the tunnel comes from its connection of two islands and serves as an extension of Atlantic Ocean
road, a popular tourist attraction.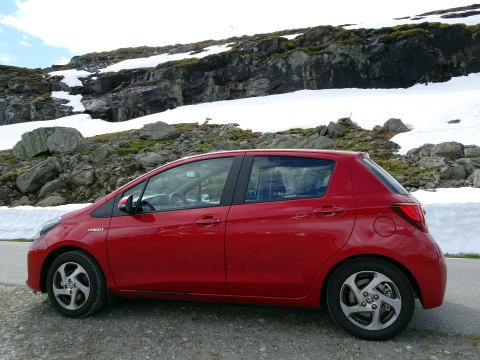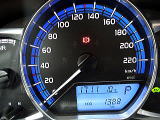 UK Toyota's new Yaris Hybrid
Fuel price we paid in Norway was 13.70 to 14.66 per liter. This is somewhat lower than that of 2015.
However, the price is still the highest in Europe.
The total mileage we have driven from Bergen to Trondheim in this trip was 1388 km.

Tunnels on E39 between Orkange and Trondheim

$B!!(BNorway 2008

$B!!(BSmoking-room ratio in hotels in Norway Oslo 2015

$B!!(BSmoking-room ratio in hotels in Norway Bergen 2015

$B!!(BSmoking-room ratio in hotels in Norway Fjord 2015

$B!!(BAll hotels are smoke-free in Norway Fjord 2016.
Norway
2015

Norway 2015

Arrival to Oslo

Oslo 2015

Oslo to Bergen

Bergen 2015

Bergen to Alesund

Hotels in Oslo

Hotels in Bergen

Hotels on the route from Oslo to Alesund

Smoking ban in Norway

Departure from Norway
Norway
2016

Bergen to Stalheim

Stalheim

Voss

Flaem

Aurlandsfjellet

Solvorn

Sognefjell

Geiranger

Andalsnes

Atlantic Ocean Road

Trondheim

Norway's tunnel

A train trip to Oslo

Oslo 2016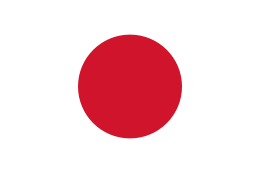 Tokyo's underground tunnel with a length of 18.6 km

$B%N%k%'!<$N%H%s%M%k(B
$B<9I.!!0e3XGn;N!!5\K\=gGl(B
$B!z(BThis Web site is link-free.
This information was provided by the Smokefree Hotel and Travel.
The photographs were taken in June, and an article was written in July 2016,
by Junhaku Miyamoto, M.D., PhD.
An information was added in September 2020.